Paulo Sergio concern over Hearts' heart
Last updated on .From the section Football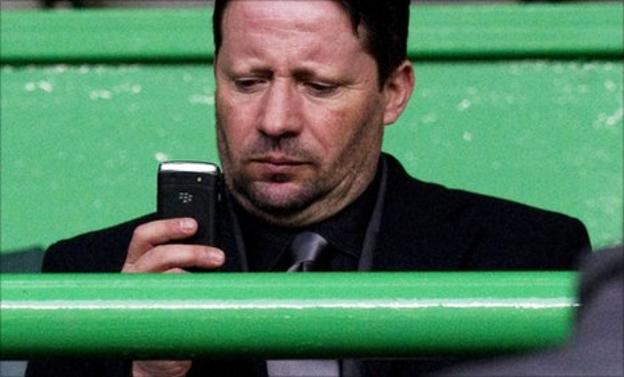 Hearts manager Paulo Sergio has questioned whether his players can continue to perform as the turmoil over unpaid wages continues.
"All this negativity around us is not good and it's not good for our heads too," he told his club website ahead of their next match against Dunfermline.
"It's not difficult to motivate players in a moment like this to play Celtic, to play big games.
"I hope they're able to do the same against Dunfermline."
Funds have stalled since Hearts owner Vladimir Romanov expressed his desire to sell the club, which is more than £30m in debt.
October's wages were paid three weeks late, while November's salaries remain outstanding as Friday's December pay-day approaches.
Hearts have suffered five defeats in seven games during that time, including Saturday's 1-0 defeat away to second-top Celtic.
Sergio said: "Dunfermline are not one of the biggest in Scotland, but we should respect them the same and be very focused on this game.
"We need three points. I believe we deserve more than we are getting from the games."
The players received a £1,000 part-payment last week from funds generated from the defeat by St Johnstone at Tynecastle, but many are contracted for about five times that amount per week.
Some Hearts players, who have been regularly consulting their union, PFA Scotland, are understood to be preparing an official letter of complaint to the Scottish Premier League should their wages not be paid this week.
Sergio stalled such a complaint, which would trigger an investigation by the parent body, in early November and the October salaries were paid 24 hours later.
"We have to still work and still think positive that things are going to change in a hard moment for everybody," he said.
However, goalkeeper Janos Balogh, striker Calum Elliot and youth player Dale O'Hara have already come to agreements over the early termination of contracts, and other players are plotting their escape in January.
Should the players go 90 days without payment, they would be entitled to invoke Fifa's article 14 and leave Hearts for breach of contract.
The 90-day date of 14 January is key, as the players have signed contracts that adhere to Fifa regulations and cannot be over-ridden by employment law.
Employment lawyer Duncan McFadzean, a partner at ELP Solicitors in Edinburgh, said: "Fifa rules that govern the situation could trump what employment law says in itself. They would take priority."