Aberdeen manager Craig Brown 'embarrassed' despite win
Last updated on .From the section Football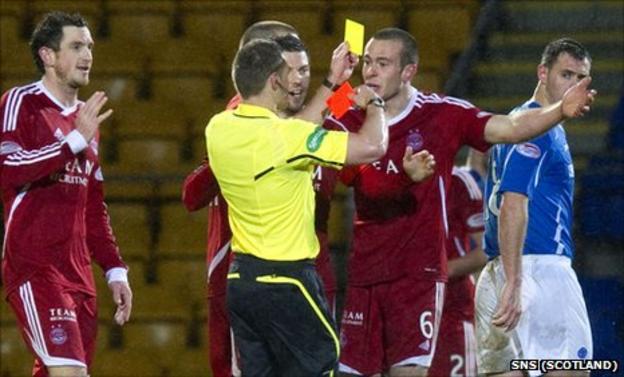 Aberdeen boss Craig Brown said he and assistant Archie Knox felt embarrassed by some of his side's poor play in their 2-1 win over St Johnstone.
TV and radio pundits praised the Dons in a game played in wintry conditions.
But Brown told BBC Scotland: "Archie's comment in there was that they will be turning their televisions off all over Britain looking at that.
"We felt embarrassed that sometimes we didn't play passes - yet our team has been playing pretty well recently."
The victory lifted Aberdeen three points clear of Hibernian and Dunfermline Athletic at the foot of the Scottish Premier League and came against a side looking to challenge Motherwell for third spot.
However, Brown insisted: "I didn't think it was a good game from the football point of view. It might have been competitive.
"I think we just deserved to win, although we didn't play well.
"I would say it's the poorest we've played in the last six games and yet we won the game."
Brown, who thought that the Dons will nevertheless build on their success in Perth, thanked the "inspirational" Ryan Jack for the strike that led to Scott Vernon's opening goal - and for scoring the second with an audacious drive from the halfway line.
"We had Ryan Jack, who created the first one and scored the second, and Kari Arnason hit a great shot against the post," said the manager.
"But, other than that, we didn't really threaten the St Johnstone goal.
"But they're fourth in the league and we are down near the bottom and therefore, to come away from home against a team who are doing very well this season, I think confirms that we are not as bad as our league position has indicated."
Aberdeen defender Andrew Considine was dismissed late on after earning a second yellow card following a foul challenge on Sam Parkin.
While Brown praised referee Steven McLean for consulting with both clubs before allowing the game to go ahead in heavy rain and strong winds, he thought the decision to send off Considine was harsh.
"I don't criticise referees, but I would ask the referee to have a look at that second yellow card, please," added the manager.
"The first one, yes, it was a yellow card, he mis-timed it.
"The second one, he won the ball quite cleanly, quite fairly and we are going to be without Andrew Considine on Saturday as a result and I feel quite upset about that."