Barnet set to leave Underhill at end of season
Last updated on .From the section Football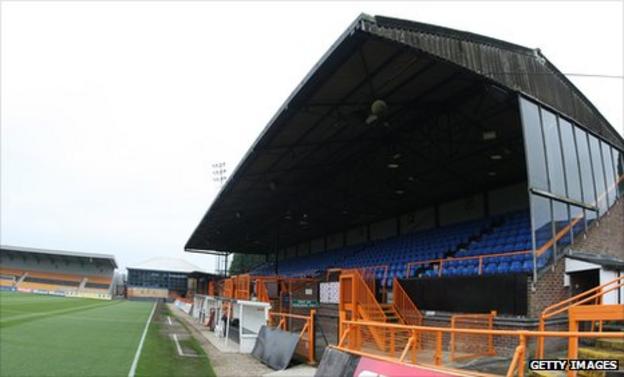 Barnet look set to leave Underhill at the end of the current season.
The ground has been the League Two club's home for 104 years but land lease issues have prompted the board to seek potential sites for a new ground.
"Our intention has always been to stay at Underhill for a few more years," said chairman Tony Kleanthous.
"But we are now finally focused on our future location rather than having the same old discussion with the council that never lead anywhere."
The club has provision for access at the southern end of the stadium under a lease with the local cricket club, which expires in 12 months' time.
As a result, they wrote to the Football League asking whether they could start the 2012-13 season at Underhill, even if they could not guarantee being able to play all their home fixtures there.
The league's response was that they would not want Barnet to do so without a contingency plan in place.
The local council has produced a proposal of its own which would involve reducing the capacity to 5,100 and relocating the club offices and other facilities.
But Kleanthous said: "We have spent nearly £2m improving Underhill over the last few years, but Barnet Council seem to want us to rip everything up and go back to the cloth cap days of cramming people in.
"It is time we looked to our future and how we can achieve a final solution to our ground problems because we have so many positives as a club and the foundations are in place for us to grow - we need to move on with our heads held high."
One option unlikely to be considered is the Copthall Stadium at nearby Mill Hill.
Barnet had a proposal for a 10,000 seater stadium at the site approved by the council 10 years ago, but subsequently rejected by then Deputy Prime Minister John Prescott.
Saracens rugby club now has plans to revamp the Copthall, turning it into a multi-purpose community sports venue, prompting Kleanthous to accuse Barnet council in October last year of "looking to invite others into the borough whilst escorting us out via the back door".