LMA aims to 'change football's mindset' to keep sackings down
Last updated on .From the section Football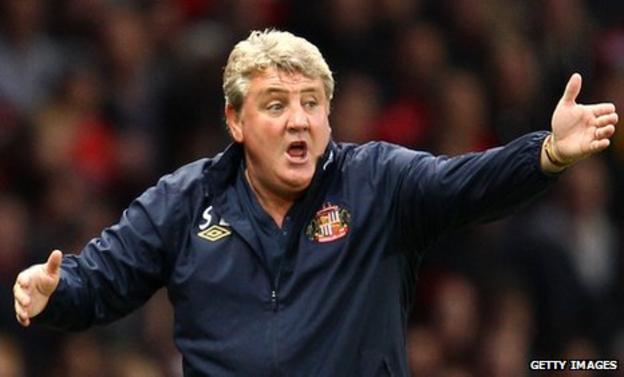 The League Managers' Association (LMA) want to "change football's mindset" to stop managers being dismissed after a run of poor results.
But LMA chief executive Richard Bevan told BBC Sport it is too soon to conclude that football management is becoming a safer profession.
"Time, sadly, is not a commodity afforded to managers," he said.
"Certainly it is understandable at times that chairmen have been spooked by results, empty seats or fans' pressure. But stability is imperative to deliver results.
"Instability at clubs can cause very real damage to the wider good of the game."
Bevan says the LMA constantly highlights the importance of continuity so that football is seen as a sound business and managers are given confidence in an environment of realistic expectations.
He added: "Simply dismissing a manager after a poor run is detrimental not only to the club but to the game itself.
"The LMA is working hard to change football's mindset, working on the recruitment process of managers and ensuring that the clubs and managers set realistic goals and aspirations."
Aside from the fact that Bruce is the only casualty so far, there are encouraging signs in the Premier League.
Although Tuesday night's match between Blackburn and Bolton was branded in some quarters as 'El Clas-sack-o', both under-pressure managers - Steve Kean and Owen Coyle - remain in their jobs.
The likes of Wigan's Roberto Martinez and Wolves' Mick McCarthy have also overcome difficult periods earlier this season.
At the top end of the table, Chelsea's Andre Villas-Boas was given time to ride out a storm and turn his team's form around.
But Bevan believes it is too early to judge if times are changing.
He said: "This might signal a changing trend but, as the timing and pattern of overall football manager dismissals has varied between recent seasons, with peaks sometimes occurring as early as September or as late as December, it is impossible to determine yet whether there will be no mid-season peak or whether it is just happening later this season."
The LMA gives the 2006-07 campaign as an example of no managers being dismissed in the first three months - but seven eventually losing their jobs.
The current, difficult economic climate also needs to be taken into consideration when analysing the lack of Premier League dismissals this season.
Bevan pointed out: "Spending money on compensation and legal fees each time a football manager is dismissed takes money out of football and is a needless expense for clubs.
"However, when the financial climate has arguably been as tough as it is this season, there has been no slowing in the pace of football manager dismissals.
"Moreover, the overall rate of dismissal of football managers is not dramatically lower than in other seasons."
Sean O'Driscoll, Steve McClaren, Keith Millen and Sven-Goran Eriksson have left their jobs in the second tier after poor starts, while and Nigel Pearson moved to pastures new.
O'Driscoll was sacked by Doncaster chairman John Ryan, who has publicly spoken out in recent years about the need for stability and had been loyal to the manager until this season.
Ryan's desire for continuity has been rewarded as Doncaster, a non-league side in 2003, are now playing Championship football. O'Driscoll was the longest-serving manager in the Championship, with five years' experience, before his exit in September.
Ryan told BBC Sport: "I stuck with Sean O'Driscoll through thick and thin. When fans were calling for his head every season, I ignored it. But the whole of 2011 was a disaster."
Discussing "football's mindset", regarding the urge to sack managers when form is poor, he added: "I feel sorry for what Steve Kean is going through. It's just unreasonable."
Speaking about the lower number of dismissals this season, Ryan said: "It's the economic reality, I'm finding out. It's an expensive process. It's not just the manager himself, it's his backroom staff too."
But should we expect more dismissals among Football League clubs rather than Premier League sides during an economic downturn?
An LMA document, including analysis and statistics, sent to the BBC reads: "It might be expected that Premier League clubs would be better protected from economic downturns than Football League clubs, particularly as a result of their broadcast revenues. Yet Football League clubs are changing their managers at much the same rate."
To that end, the LMA is backing the recommendation - made by the Culture, Media and Sport Committee - for a club licensing system.
Bevan said: "The LMA believes that for good governance it is vital that this is introduced."