Swindon Town's De Vita rises to Paolo di Canio challenge
Last updated on .From the section Football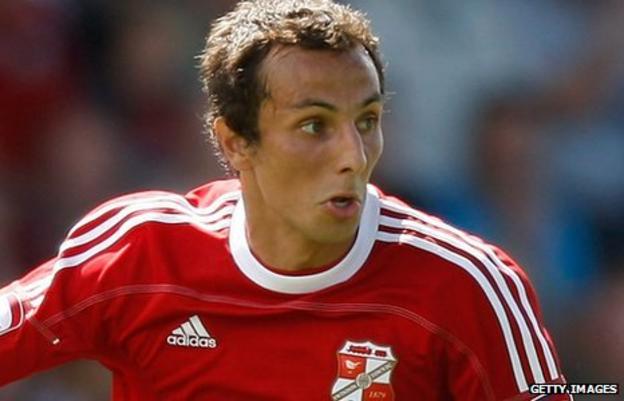 Raffaele De Vita has said he is ready to prove himself at Swindon Town after being publicly criticised by manager Paolo di Canio.
De Vita, 23, was one of a number of players who faced the wrath of Di Canio after their 1-1 draw with Bristol Rovers on Saturday.
"We deserved a good hammering, especially some players, including myself," the winger told BBC Wiltshire.
"If I don't go out to prove a point I'd be pretty stupid."
De Vita arrived at the County Ground in the summer on a two-year deal and has since made 23 appearances in all competitions, scoring five goals.
Despite being a regular in the side, who have now gone 14 games unbeaten, Di Canio questioned his concentration in the League Two clash at the Memorial Stadium, suggesting: "Their brains are somewhere else. Maybe Rafa's is already in Italy?"
De Vita concedes that it is now down to him to prove his manager wrong: "I think it's a test for me. If I react well it will be something that makes me stronger. If not, it means I'm too weak.
"No one is going to feel sorry for me. In football sometimes it feels like everything is easy but it's a harsh business. It's more like a kick up the bum then a pat on the shoulder."
He added: "Most of the teams don't have the same ambition as Swindon and as the gaffer so if it's not good enough for him then it's not good enough and we have to do more."