Celtic face uphill struggle against Udinese

By Liam McLeod
BBC Scotland
Last updated on .From the section Football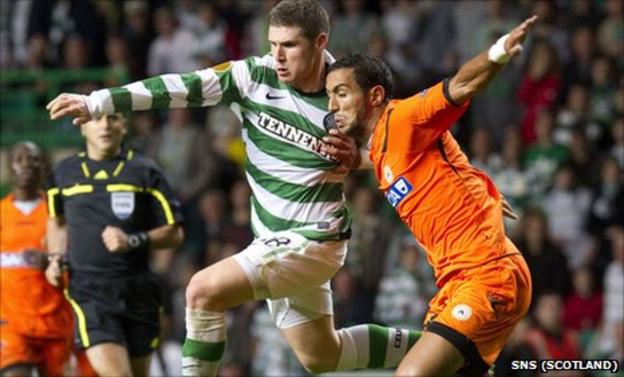 The fact Celtic have a chance of qualifying for the knock-out stages of the Europa League may surprise some.
It won't surprise others.
At the beginning of the group stage in Madrid, Group I looked a tall order for Neil Lennon's reinstated side.
Atletico, Udinese and Rennes all looked like dangerous opponents for a team that struggled against Sion - who may or may not still have a part to play in this tournament.
But those in the other camp will have seen some of Celtic's best performances of the season come in this competition.
Even on match-day one, the 2-0 defeat in the Spanish capital was arguably harsh given the spirited performance that had been missing in so many recent European trips.
The Rennes double-header yielded four points, with the game in France - the Cha/Forster comic-cuts act aside - being a particularly pivotal game, not just in this competition but generally.
Atletico were always to be favourites for the group.
Rennes were always the side most felt Celtic would take points from.
Udinese on the other hand were an unpredictable animal, which is strange because they've been very predictable here in Italy; predictably good.
Only once has Francesco Guidolin - a football nomad as a manager, as he was a player - watched his Little Zebras lose at home and that was 2-1 to Arsenal in the Champions League play-offs.
Since then, Udinese have played nine, won nine, scored 18 and conceded just three times at Stadio Friuli.
Celtic - just one victory in 32 European away matches - must win to progress in the competition.
That is the size of the task, and it's as black and white as their opponents' shirts.
Although their away form isn't as impressive, Udinese - the most Northerly team in Italy - have still picked up enough on the road to sit level on points with Juventus at the top of the table.
Juve's 1-1 draw with Roma on Monday meant Bianconeri's stay in first place outright was a brief one.
The school of thought here is that winning a maiden Serie A title is a much higher priority than the Europa League.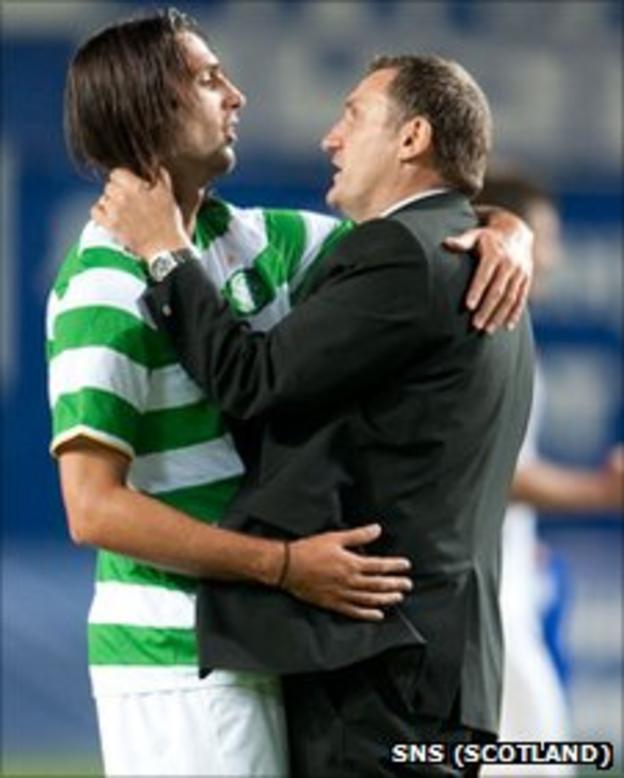 Belying that is the ominous news from the Udinese camp that skipper and Italy international Antonio di Natale wants to play this time.
He - along with a host of others - were left out when they visited Glasgow in the autumn.
It seems certain that Celtic will face a very different animal this time around.
What is even more impressive with what is happening here near the Slovenian border, is the fact the club lost so many star names in recent times.
Alexi Sanchez - who scored in last Saturday's la Liga Classico - left for Barcelona in the summer, Italian national squad members Simone Pepe and Marco Motta were lost to title rival Juve and Serb Aleksander Lukovic went to Zenit St Petersburg.
But, the likes of Morroccan defender Mehdi Benatia, Chilean wide-man Mauricio Isla - who impressed at Celtic Park as a sub - and another Serb in Dusan Basta - who joined di Natale on the scoresheet in the win over Chievo on Sunday - are all likely to start for the hosts in a much more familiar line-up on Thursday to the one in September.
It's now two and a half years since Tony Mowbray guided Celtic to a European away win, if that record doesn't stop on Thursday night, it will be buona notte to Europe for them and Scottish Football for another season.