Off The Bawl - 10 December
Last updated on .From the section Football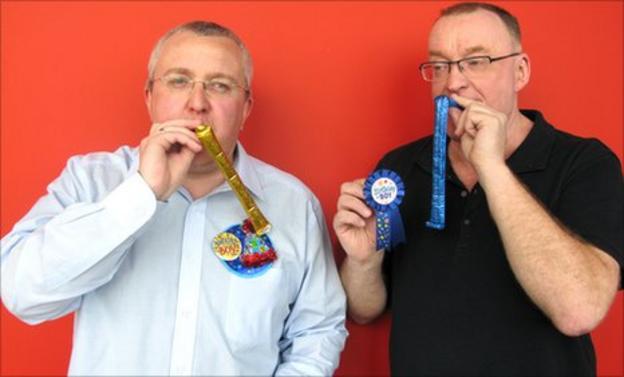 Off The Bawl with Tam Cowan.
Greeeeeetings!!! Our guests in the studio on Saturday were the lovely BBC Scotland weathergirl Cat Cubie and... well, who cares who the other fella was?
"Cat is absolutely gorgeous!" said the very first text we received.
"Is Cat single?" asked the second.
Stalker alert! Stalker alert! Stalker alert!
Fraser in Perth said: "Cat is quite simply my dream woman. Thank you for having her on the show."
However, another listener - Steven in Glenrothes - had a warning for Cat. He said: "A trio of BBC Scotland weathergirls - Big Jude, Gail and Gillian - all fell pregnant at the same time. If Cat doesn't wish to be in the family way any time soon, I reckon she's in the wrong job or perhaps just the wrong office?"
Fifteen minutes into Saturday's edition of Off The Ball our other guest - former Dundee Utd, Kilmarnock and Scotland striker Andy McLaren - finally got a mention.
But all the nice sentiments had clearly been reserved for Cat.
A Falkirk fan said: "Andy rattled off all the teams he's played for, but he missed one out. Has he forgotten he played for Falkirk. I wish I could!"
The show was dominated by two subjects: our Team of the Week (The Christmas Party XI) and Hurricane Bawbag. What other names could the listeners come up with for Scottish hurricanes if we went right through the alphabet from A to Z?
TEAM OF THE WEEK
The Christmas Party XI
(aka Man Kitty)
Manager: Dick Advocaat
1/ Alan Rough As A Badger's Arse
2/ Ivo den Steamin'
3/ Slosh McKinlay
4/ Tommy Spew Yer Ring (c)
5/ Andrew Designated Driver
6/ Robert Blytzed
7/ Mistletony Cascarino
8/ Hicham Zeroswally
9/ Charlie Knickerless
10/ Ugo Eggynog
11/ Photocopy Arshavin
THE A-Z OF SCOTTISH HURRICANES
A - Awroonthehooses
B - Bawbag
C - Cludgie
D - Dunderheid
E - Eejit
F - Fannybaws
G - Glaikit
H - Hee-haw
I - Itchybaws
J - Jakey
K - Keech
L - Laldy
M - Mockit
N - Numpty
O - Oxter
P - Peely Waly
Q - Quality-man
R - Radge
S - Scunner
T - Tumshie
U - Urny
V - Vicky's
W - Walloper
X - Xtra-Xtra-Get-Yer-Evening-Times!
Y - Yer Maw
Z - Zoomer
AND FINALLY...
The song that played us out?
Well, as a tribute to Sone Aluko, we finished with the old Elvis Costello classic I Can't Stand Up For Falling Down...
To join in the fun on this Saturday's show, call 0500 929500, text 80295 or email offtheball@bbc.co.uk
Listen to the most recent Off the Ball programmes.
Download the latest Off the Ball podcast.