Stoke rule out complaint over Besiktas missile incidents
Last updated on .From the section Football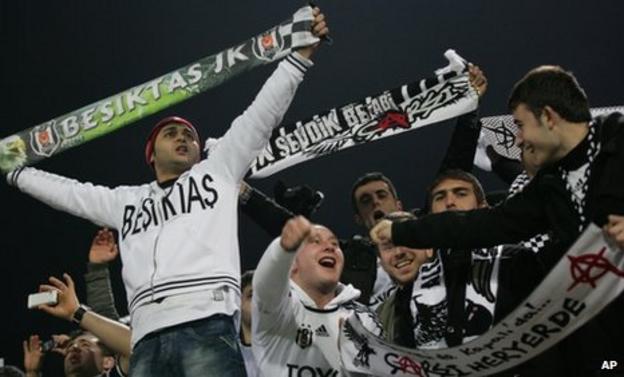 Stoke players were pelted with objects during the Europa League defeat at Besiktas, but manager Tony Pulis says they will not complain to Uefa.
Goalscorer Ricardo Fuller and winger Jermaine Pennant, as he prepared to take a corner, had items directed at them inside the Inonu Stadium.
"We won't be complaining to anyone. We're Stoke and we don't complain," said manager Tony Pulis.
Pennant added: "I was getting pelted with everything - lighters, coins."
He continued: "I didn't want to take [the corner] because every second I could see things flying past me.
"Until that stopped, I didn't feel comfortable taking the corner and then obviously the referee called me away.
"I've played here before so I know what the atmosphere's like," added Pennant, who came on as a first-half substitute for the injured Andy Wilkinson.
Despite the defeat, Stoke progressed to the last 32 of the competition having sealed their berth in the previous round of Group E games.
They went ahead through Fuller before Besiktas equalised from the spot after Hugo Almeida was brought down in the area by stand-in captain Matthew Upson, who was sent off for the foul.
Goals from Mustafa Pektemek and Edu gave the Turkish side a victory that put them through to the knockout stages as group winners.
"They had a lot of possession and a lot of creativity but with 11 men we were holding on," said Pennant.
"The penalty and going down to 10 men just put us right on the back foot and they got hold of the game."
Pulis, who began with an entirely changed starting XI from the one that kicked off against Tottenham on Sunday, chose not to dwell on the defeat.
"We've finished above Kiev and we've given Besiktas two very good games, especially when it was 11 against 11," said the Welshman.
"Every one of the players who played today has done absolutely fantastically for us and even when we went down to 10 men they just kept working.
"I was told it was going to be an interesting trip coming to Turkey, and it's certainly been that. This is all new to me.
"I was told I would experience different things and I have, but I thought the players handled it well."