Hearts pay delayed November wages
Last updated on .From the section Football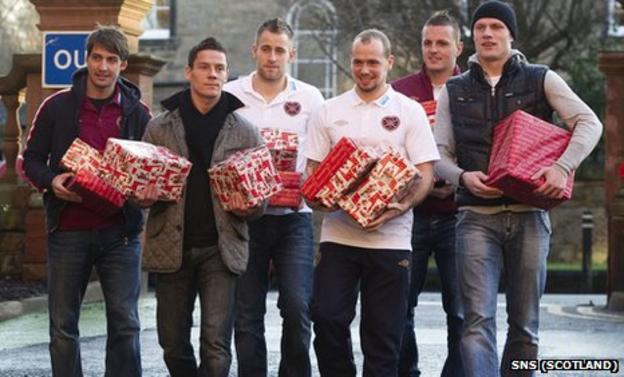 Hearts have paid all overdue November salaries as PFA Scotland prepare to submit an official complaint over the matter to the Scottish Premier League.
Frustrated players gave the union a mandate to act if they were not paid in full by Friday, when December's salaries are due.
And PFA Scotland are ready to press ahead with their grievance if December's wages do not appear on time.
October's wages were 16 days late, with a 29-day delay on November's pay.
The Hearts director Sergejus Fedetovas told the club's website: "All this hysteria around Hearts is a very profitable business for the media and even some solicitors have taken the chance to grab the limelight alongside more controversial 'experts'.
"I can assure the fans that we have the plan to normalise the business at the club and we also know the rules and regulations - no player walkout will happen.
"No senior players that have value to this club will leave the club for free.
"We have already done some business that allowed us to pay wages and tax this month and will allow us to minimise the risk of delays in the future. We now need to implement the plan we have and prepare for the next season.
"You may have noticed that no one really cares to suggest how to improve or help the situation, but would rather speak about how bad it is.
"A very big part of Europe is in trouble now. Very many clubs do not pay their players' salaries for months.
"It is not an excuse; it is a consequence of economic reality.
"We are living in countries that cut employment, pensions, increase retirement age and taxes. Businesses are abandoned, businessmen reconsider their strategies.
"If we want to survive we need to adapt to a new environment and unfortunately with an element of shock. The transition to a safer situation is painful, but is inevitable."
Funds have stalled since Hearts owner Vladimir Romanov expressed his desire to sell the club, which is more than £30m in debt.
On 5 December, players waiting for their salaries were given a part-payment of £1,000 to help tide them over.
PFA chief executive Fraser Wishart said Thursday's meeting with the players "was very constructive and the union now have the full backing of the first team".
However, this was before Hearts issued November's wages.
The SPL says it will only step in if a player makes a formal complaint but the Scottish Football Association insists it has no powers to act.
Speaking after the November wages had been paid, Wishart told PFA Scotland's website: "It is welcome news that the players have received part of the monies outstanding to them.
"Throughout this whole process they have been thoroughly professional and focussed in their outlook.
"The members have however mandated that should they not be paid fully up to date by tomorrow (16 December) a collective complaint to the Scottish Premier League will still to be lodged.
"It is our hope that the salaries will be paid fully and no further action is necessary.
"Many legal experts have been seen to give opinions on what the players should do and what the legal position is.
"I think that the legal fraternity should be careful when offering such opinion from a distance and with little knowledge of the players' contractual position.
"What many of these experts do not have is an intimate knowledge of the football regulations and the impact that breaching a contract will have.
"A players' employment is multi-layered with employment law, Scottish football regulation and those of Fifa all having a massive impact."