Barcelona striker David Villa to miss rest of season
Last updated on .From the section Football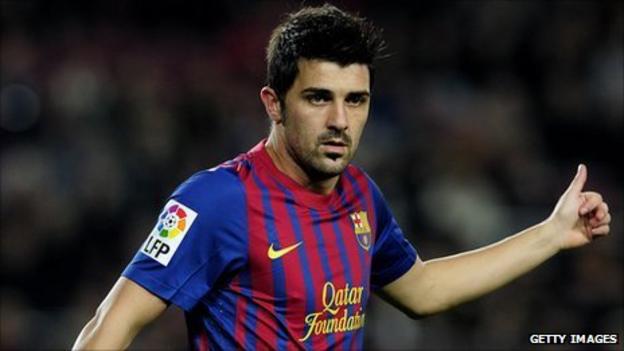 One of the surgeons who operated on David Villa's broken leg says he has only a "slim" chance of playing again this season.
The Barcelona striker, who was injured at the Club World Cup on Thursday, could miss Spain's Euro 2012 campaign.
Dr Ramon Cugat said Villa's chances were "slim but it cannot be ruled out".
Villa, 30, Spain's all-time leading scorer, had been optimistic of a speedy return, saying: "I'm sure that I'm going to recover as soon as possible."
Dr Ricard Pruna, who also participated in the surgery on Monday, said the injury was the result of a stress fracture in his left shin bone.
"The surgery went fantastically well," he said. "He has been sending messages to his colleagues and laughing with his wife. I have never seen someone in such good spirits after an operation."
Dr Cugat added: "Some players can finish their professional careers with a stress fracture.
"Players prefer not to have the operation so as not to lose four or five months. Normally no one wants to have preventative surgery.
"Everyone hopes he will be able to play Euro 2012. It's a little tight for the Champions League final in Munich. If I gave a date for his return I would probably be wrong. It will be his leg that decides."
Villa was hurt when challenging for the ball during Barcelona's 4-0 win over Qatari side Al Sadd in the Club World Cup semi-final in Japan.
The European champions went on to win the competition with a 4-0 win over Brazilian side Santos in the final on Sunday.
Barcelona manager Pep Guardiola had vowed to win it for Villa.
He said: "It's a big blow to the team. We just hope that he can play again as soon as possible.
"David is very dear to us. The injury has saddened us all. We must accept it and encourage him in his recovery."
Villa has scored 50 goals in 81 games for his country and played a key role in their World Cup triumph in South Africa last summer.
Spain are set to begin the defence of their European Championship crown against Italy on 10 June.
"The news is very bad," said Spain coach Vicente del Bosque. "It's a great misfortune, for him above all since he is the injured one, and looking ahead to Euro 2012, of course this is very bad news.
"There are six months to go. Let's see if he can get well. Recovering always has its set processes, but there are some players that get healthy sooner than others."
Villa, a £34m signing from Valencia in 2010, has scored 12 goals in 26 appearances in all competitions for Barcelona this season.