Every time I kick a ball, it's for my late newborn son - Billy Sharp
Last updated on .From the section Football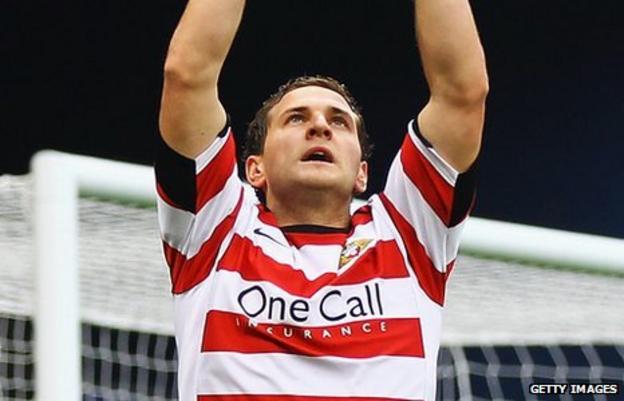 Seven weeks after the death of his newborn son, Doncaster striker Billy Sharp says he thinks about his son every day and that "every time I kick the ball, it's for him now".
Luey Jacob Sharp was diagnosed with gastroschisis 14 weeks into the pregnancy and passed away two days after he was born.
Three days later, his father Billy played and scored against Middlesbrough.
Sharp led a minute's applause before the 3-1 defeat by Middlesbrough, in which he scored the opening goal.
"Every single day it's still hard when little reminders come up and it's a bit more difficult to think about it," Sharp told BBC Radio 5 live.
"I know we're not going to be the first people it has happened to and we're not going to be the last.
"It has not got easier, but the support from friends, family and people who don't even know us has been unbelievable. It has helped a lot. I'd love to thank everyone for that."
The striker was not expected to play against Middlesbrough but Sharp described how the day before, something "just clicked" and inspired him to play.
"Obviously when I first found out Luey had passed away, it was difficult," said Sharp. "There were a lot of tears and I did feel lonely even though I had all my family around me.
"But the next day, I still didn't know what to do with myself and something just clicked in my head. What makes me happy the most? Football is the thing that puts a smile on my face every day.
"So I spoke to my dad and he said: 'Listen son, I'll back you in whatever you do,' as he always has done.
"I rang the boss and he was superb. I said I want to play tomorrow and he said that's the best news I've had since I've been at the club. Make sure you eat right, sleep right and get him a goal tomorrow.
"Luckily for me that's what happened. I probably won't score a goal in my career better than that one.
"It meant so much to me and someone must have been looking down and gave me that a little bit of a boost for 10 seconds. It was an emotional night but I'm glad I did it."