Axed Andrew Driver's Hearts future in doubt
By Jim Spence
BBC Scotland
Last updated on .From the section Football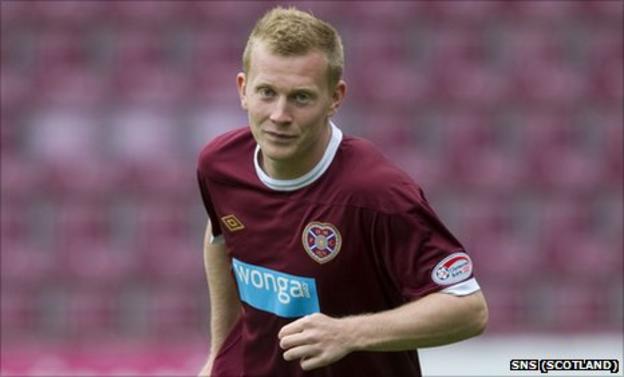 Hearts say Andrew Driver was axed from the squad to face Dunfermline Athletic after he confirmed that he no longer wanted to play for boss Paulo Sergio.
But he was confronted by Sergio ahead of the morning team meeting about comments attributed to his agent.
And, after Driver confirmed that the quotes in morning newspapers were true, Sergio left the 24-year-old out for the match at Tynecastle.
The decision leaves the future of the winger, who has 18 months left of his contract with the Edinburgh club, uncertain.
Hearts are continuing a media blackout amid a continuing row with unpaid wages to their playing staff, who have sent an official complaint to the Scottish Premier League.
However, Sergio told Hearts TV: "He's a good player and I think he has things that can help us and he works hard too.
"I gave him the opportunity to clarify the situation, because I don't have a problem if he wants to go in January.
"He confirmed he doesn't want to play. I don't want anybody who is not involved 100% with Hearts."
Driver, who has been plagued with injury over the last 18 months, has made only eight appearances this season, mainly as a substitute.
Sergio stressed that he had not questioned the winger's work ethic, even though Driver has only been training twice a week because of his injury problems.
The manager also insisted that he had been pleased with Driver's performance as a replacement in last weekend's defeat by Celtic.
While the manager stressed that the former England Under-21 international would need to wait for his chance to start, Driver was set to feature on the bench against Dunfermline.
That was until Sergio gave Driver the chance to deny the quotes attributed to his agent.
Sergio pointed out Stephen Elliott, who scored the opener against Dunfermline, and Mehdi Taouil, who netted the second, had waited for their turn in the first team.
"This shows that, if you are patient, you will get your chance," said the coach.
"I am delighted with everybody, but especially Stephen Elliott.
"He hasn't played much, but he is a player I really believe in.
"I want them to be focused and happy and I am pleased for them today in difficult times - and we must fight and show we are not cowards."
Sergio was delighted with the display against bottom side Dunfermline.
"The first half was terrific," he added. "Today, we could have hit a record score, we had so many chances.
"We were very superior, and we were happy. Dunfermline started well, but we scored even earlier.
"The goal helped our confidence and made us comfortable".