Arsenal can beat Manchester City - Arsene Wenger
Last updated on .From the section Football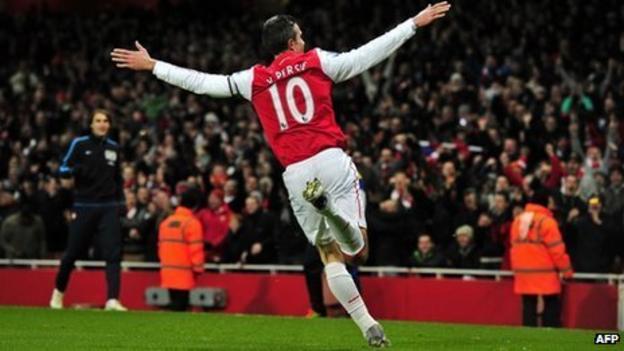 Arsenal boss Arsene Wenger believes his team can underline their status as the Premier League's form team by beating Manchester City on Sunday.
Leaders City lost their unbeaten league record when they were beaten 2-1 by Chelsea on Monday, while Arsenal are on a run of seven wins in eight games.
"Their home form is absolutely exceptional and it is a massive test for us," said Wenger.
"If we play our best I think we can beat anybody. We can beat City."
Roberto Mancini's City side will aim to bounce back from defeat at Chelsea and dropping out of the Champions League last week.
They have a 100% record at the Etihad Stadium, having scored an average of more than three goals a game, and have already beaten the Gunners in the Carling Cup this season.
But Arsenal will look to repeat their success there last year when they won 3-0 after City were reduced to 10 men.
Arsenal are fifth in the Premier League, nine points behind City so Wenger stopped short of saying that victory would put them back in the title race.
"We have to come close to Manchester City to be really in it," added the French manager.
"We are in the race for the Champions League places at the moment - and the purpose is to get closer. We have a good opportunity to do it on Sunday."
It is the first visit to Manchester for the Gunners since they were beaten 8-2 by Manchester United in August.
And Wenger feels his squad deserve great credit for their response, which has also seen them safely through to the knockout stages of the Champions League, which both City and United failed to achieve.
"If you have a strong mental response from your players it can help," said Wenger. "It took us a while to get over it - let's not fool ourselves - and we came back slowly, but there's something in the team that shows we have the resilience.
"We are on the way of recovery but we have a big, big test on Sunday and let's see how we survive that test."
City defender Vincent Kompany said he was not fazed by facing the league's top scorer Robin van Persie, who has netted 19 times this season.
"It is not like it has been any different in the previous weeks," said the Belgium defender.
"I have gone from Mario Gomez to Wayne Rooney to Edinson Cavani to Didier Drogba and now Robin van Persie. The list of names doesn't stop.
"It is a tough world for defenders sometimes but I enjoy it all the more when I play against strong opponents."
Kompany, 25, added: "Arsenal are going really well and definitely one of the best teams in the Premier League at the moment.
"But the bigger the challenge, the better we are. In that way, maybe it is a good game for us."