I'm sorry for arrest - Nicklas Bendtner
Last updated on .From the section Football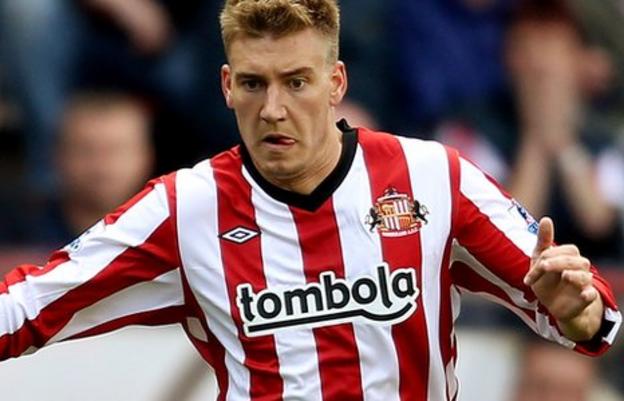 Sunderland striker Nicklas Bendtner has issued a public apology following his arrest on Thursday in relation to an incident in Newcastle City Centre.
Bendtner, 23, along with Black Cats team-mate Lee Cattermole, was arrested on suspicion of criminal damage, and later released on bail.
In a statement, he said: "I am extremely sorry for all of this."
"My most important goal right now is getting rid of my injury and getting back in top form."
Through a statement, published on the website of Danish newspaper Ekstra Bladet, Danish international Bendtner said he had "been involved in several incidents that have attracted much negative attention from the media."
He added: "I hope you will understand that I am therefore now intending to concentrate on football, and just about football - it is here and only here that my focus must lie.
"I apologise sincerely that I have allowed myself to get involved in things that are interpreted in such dramatic fashion."
Bendtner, who is on a season-long loan from Arsenal, used the opportunity to comment on two other incidents which he has been involved in.
The Danish international added that he will change his lifestyle in light of recent events.
"I fully assume responsibility for not distancing myself from these incidents before they got out of hand," he added.
"I hope you will understand that I now promise to concentrate fully on football and only football. My focus has to be here - and not anywhere else.
"It means that I in the upcoming time won't be involved in extracurricular activities - like too many parties or interviews about my persona.
"Trust takes time to build - and I now can see how quickly it disappears."