Blackburn boss admits Tuesday night's match with Bolton is 'massive'
Last updated on .From the section Football
Blackburn manager Steve Kean has vowed to fight on despite his side suffering their 10th Premier League defeat of the season as they lost 2-1 to West Brom.
Peter Odemwingie's late winner prompted boos from the unhappy Rovers fans.
Asked whether he would quit Kean said: "No, I consider myself a fighter."
Blackburn face bottom side Bolton next and Kean vowed: "We will get in tomorrow [Sunday] and prepare for Tuesday's game - we'll get the three points if we deserve the three points."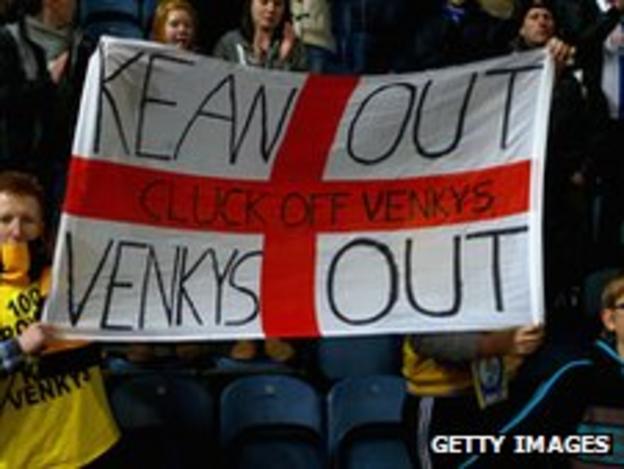 The Rovers boss added: "After that game the table will hopefully look better."
Ahead of the match fans had promised to postpone their protests for the next two games, but anti-Kean banners were soon on display at Ewood Park.
And with just one point separating Blackburn from Bolton, Tuesday's derby between the bottom two sides has been given an added edge.
Kean said his side need "to show some courage" if they are to pull away from the relegation zone.
"The fans are frustrated, same as the staff and players inside the dressing room," he added.
"We want to be winning games, especially at home, and we haven't today so it makes Tuesday's game massive, if it wasn't massive already.
"We've got to show courage and I don't mean courage as far as challenges and tackles, I mean courage in our next home game to get on the ball and dictate play and try to make some better clear-cut chances.
"I felt that today we didn't create clear-cut chances in the manner that we normally do."