Sir Steve Redgrave offers support to Man Utd's Darren Fletcher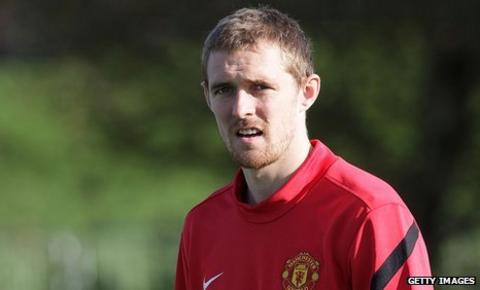 Sir Steve Redgrave has offered his support to Darren Fletcher after the midfielder was revealed to be a fellow ulcerative colitis sufferer.
The Manchester United star is taking an extended break from football to try to recover from the rare bowel condition.
Five-time Olympic gold medallist Redgrave was diagnosed in 1992 and has spoken to Fletcher on the phone.
"At least he knows somebody else in the sports world has gone through it," Redgrave told BBC Radio 5 live.
"In some ways you feel very isolated when you have a problem that drags on for a long period of time. You feel you are the only person in that situation.
"I gave him my advice as somebody who has had the condition and dealt with it in sport. I have given him my number so he can contact me if ever he needs someone to talk to."
United revealed on Tuesday that Fletcher had accepted medical advice to take a break after trying to play through the serious abdominal problem.
But his hopes of making a return to the playing field may be lifted by the experience of Redgrave, who was diagnosed with ulcerative colitis 10 weeks before winning gold at the Barcelona Olympics and went on to clinch his fourth and fifth golds at the 1996 and 2000 Games.
"I competed through the Barcelona Games with the condition," said Redgrave. "It took a number of weeks to be diagnosed, but because I was lucky enough to just about continue training, my fitness wasn't too badly affected.
"If you are fit in the first place you have a better chance of getting back to fitness once the condition is under control.
"But it's a very difficult condition to live with. The bowel is very sore, very inflamed, and you lose a lot of blood.
"I still live with it now and take medication on a daily basis to keep it under control."
Speaking to Radio 5 live's Sportsweek, Redgrave said his wife Ann had also spoken to Fletcher because she was the team doctor to the Great Britain rowing team when Redgrave was diagnosed.
"He seemed relatively positive," added Redgrave. "It is a condition he has been struggling with for quite a while. He and the club doctor have kept it to themselves for a period of time but now they feel it is time to go public."
Redgrave did not want to speculate on Fletcher's chances of making a full recovery from a condition which can vary in severity and can require surgery to remove the bowel.
"It is treatable but everyone is different in how they respond to the treatment involved," said Redgrave.
"I know of people who have had surgery and it has really set them back a long way, but I've seen people bounce back very quickly. We are only guessing and what's the point of guessing."