Perruaux denies racially abusing Kamal Chafni
Last updated on .From the section Football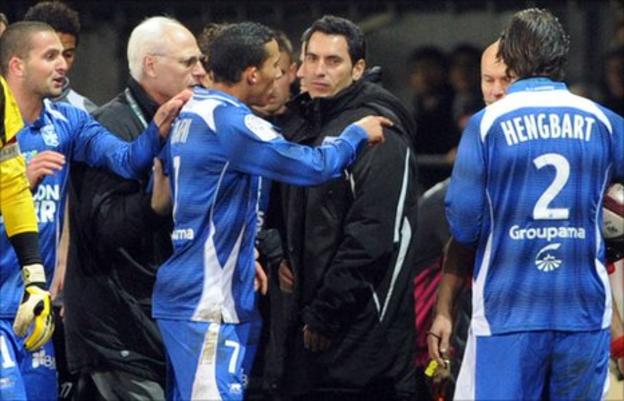 Assistant referee Johann Perruaux has denied racially abusing Auxerre's Moroccan international Kamel Chafni during Saturday's match at Brest.
On Sunday, the French football league (LFP) opened an inquiry after Chafni claimed the linesman told him 'get lost, Arab' during Auxerre's 1-0 loss.
Chafni was then sent off after repeatedly protesting to the referee.
"I formally deny all claims that I made racist remarks," Perruaux said in a statement on Monday.
"Even if I reacted strongly, following the remarks made by Mr Chafni and his aggressive attitude towards me, I formally deny all allegations of racist abuse.
"I am at the disposition of the judicial authorities that Mr Chafni has indicated he will go to, and have all the evidence necessary in my possession."
Perruaux was referring to the earpieces the officials wear and which record exchanges between individuals.
The assistant referee also revealed he is considering legal action.
"I have asked my advisors to do all that is necessary so that a complaint for defamation can be filed," he said.
"I will make no further comment on this affair but I will obviously give all the explanations concerning the incident to the sports commissions who have been assembled to consider it."
On Sunday, the LFP said its president Frederic Thiriez has ordered the inquiry "so that light is shed on this matter as quickly as possible."
Thiriez took the decision after speaking with Auxerre president Gerard Bourgoin, league refereeing head Marc Batta and match referee Tony Chapron.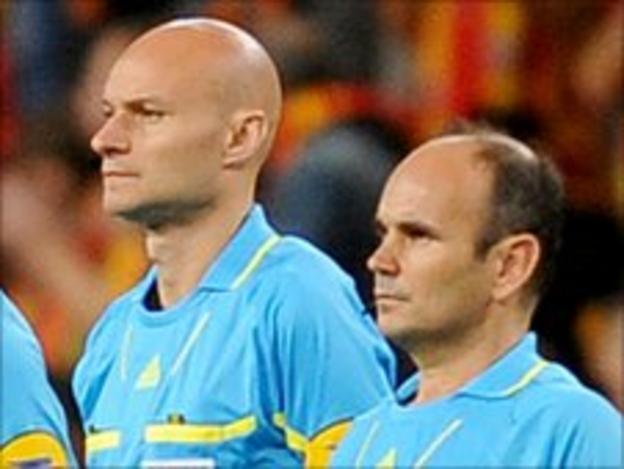 After Chafni reported the incident to Chapron, the midfielder was booked and then sent off in the 55th minute for his continued protest.
"This matter must be cleared up. Some Brest players heard the same thing. So I don't think it's the player's imagination," Auxerre president Gerard Bourgoin was quoted as saying by L'Equipe on Sunday.
Also speaking to the sports daily, Chafni said that when he told Perruaux he had failed to spot defender Gregory Lorenzi's foul on forward Roy Contout, the linesman responded with a racial slur.
"There was a foul that wasn't signalled, I went toward the assistant referee and told him that it wasn't normal," Chafni told L'Equipe. "He answered 'Get lost, Arab."'
"I go to the field referee and I tell him what happened and he gives me a yellow card. I told him, repeated (to him) that it was unacceptable, and he shows me a red (card)."
The 29-year-old Chafni, who says he intends to file a complaint at his local police station, wants Perruaux to be punished.
"(I) want to go all the way with this. It's serious, it goes beyond sport," he said.
Chafni says that Contout, Brest forward Larsen Toure and Brest's physiotherapist all heard Perruaux's racial slur.
Referee Chapron denied his assistant had made a racial slur.
"I refute any accusation concerning these words," he said after the game. "I know him and I know that two years ago this lad was with me in Benin to train referees in that country.
"If he was racist, I would have been very surprised that he came with me."