Nations Cup television black-out for debutants Botswana
By Mtokozisi Dube
BBC Sport, Gaborone
Last updated on .From the section Football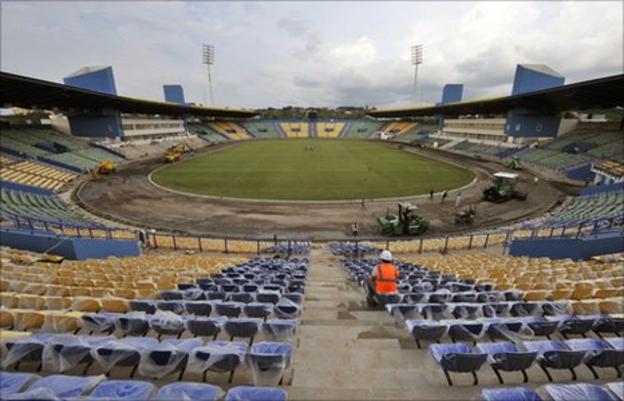 Football fans in Botswana have been denied the chance to watch their country's maiden appearance at next month's Africa Cup of Nations.
This comes after the Botswana government chose not to buy broadcasting rights from the French company, SportFive.
The government said the asking price of 15m Pula (US$1.98m) was unreasonable.
"P15m minimum for us to have limited terrestrial rights has been judged to be too much," government spokesperson Dr Jeff Ramsay told BBC Sport.
This came after negotiations between SportFive and Botswana's state-owned national broadcaster (Btv), which depends on the government for funding, broke down.
"We are undergoing budgetary constraints right now: obviously we budget certain amounts and this hadn't been budgeted for," Ramsay explained.
He added that he hoped many football fans would be able to follow the competition through subscriptions to the satellite television network showing games.
Ramsay added that the government is already investing a sizeable sum in preparing the national team for its tournament debut.
"The government has already made a decision that its major supplemental spending in terms of promoting the Zebras is preparing them for these matches in terms of friendlies and other incentives and support," he said.
"That has come to a total of P9 million in supplemental budgeting and a decision has been that we simply can't [pay for the rights as well]," Dr Ramsay told BBC Sport.
The Botswana government is funding the team's ten-day training camp at the Royal Bafokeng Sports Campus in Rustenburg, South Africa.
After the Rustenburg camp, the Zebras head for a camp on 26 December in Qatar, where they will train at the Aspire Academy at the government's expense.
The Zebras have been drawn in Group D at the finals alongside Ghana, Mali and Guinea.
Botswana's Minister of Presidential Affairs and Public Administration, Mokgweetsi Masisi, clarified in parliament this week that it is not just Botswana that is suffering from SportFive's demands.
"The ability of Btv and similar broadcasters across the continent to obtain rights to the tournament has - from the beginning - been compromised by the crippling financial demands of SportFive," he said.
During the 2010 Nations Cup in Angola, Btv were ordered to stop broadcasting the finals after failing to secure broadcast rights - with SportFive expressing concern that the broadcaster was illegally screening the games after beaming the opening match live.