Blackburn manager Steve Kean says his job is not under threat
Last updated on .From the section Football
Blackburn manager Steve Kean has held talks with the club's owners but insists his job is not under threat.
Rovers are second bottom of the Premier League and face Bolton, the only side below them, at Ewood Park on Tuesday.
Asked if owners Venky's gave him an ultimatum ahead of the match, Kean said: "No, not at all.
"They are obviously concerned, like we all are. But I have full backing from the owners and full backing in the transfer window."
Kean is under increasing pressure after Saturday's home defeat by West Brom.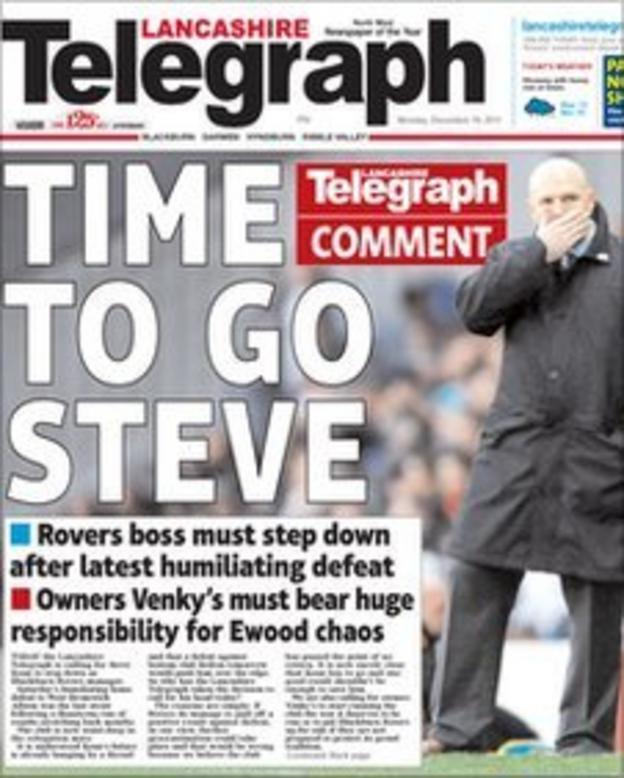 National newspaper reports on Monday linked former Blackburn striker Alan Shearer and ex-Portsmouth boss Avram Grant to the Rovers job.
The Lancashire Telegraph newspaper ran a front page comment calling for Kean to be sacked.
But Kean insists he "would never back away" from the challenge at Ewood Park.
"When we win I come up and answer questions," he said. "If we lose or draw it is not something I would ever run away from.
"You have to face up to the responsibility. It doesn't keep me awake at night but it is a difficult situation. I won't turn my back on it, though."
Former Blackburn striker Kevin Gallacher, however, sees no way how Kean can survive after the local media turned against him.
"Initially it was a small contingency of fans against him, but now he has lost the support of the whole of Blackburn," Gallacher told BBC Radio 5 live.
"When you have lost the local newspaper and you are losing the local radio, it's time to walk or be sacked."
While Kean admits his employers are "concerned", he already has plans to bolster the squad early in the January transfer window.
"We spoke for 45 minutes and had a good conversation," Kean said of the meeting. "We have spoken about new players that are going to be coming in during the window.
"I think in the position we are in, and we are losing bodies, it is important we are active now so that as soon as the window opens, not near the end of it, we can get some players in."
Although Blackburn are one place and one point ahead of Bolton, Kean insists he is coping with the pressure that comes with a relegation fight.
"You have to handle it; it's part of the job," he said. "When you win games and get pats on the back, you take that with a pinch of salt. When you lose one, you just have to prepare for the next one.
"I'm not trying to pretend I don't understand the magnitude of this game but, when I go into the changing room and get out on the training ground, players are behind what we're trying to do.
"I'd ask the fans to stick with us for a game as important as this. When we scored [against West Brom] they were with us when the momentum changed.
"We had a late goal against us and we're all disappointed but, if they can stick with us, it can make a massive difference."
Bolton's 2-0 defeat to Fulham on Saturday was their fifth in succession, and there have been suggestions that the losing manager on Tuesday will be sacked.
While Bolton boss Owen Coyle is under no illusions over the importance of the game, he insisted: "It doesn't faze me.
"Have your opinion; call it any way you like. We all have jobs to do and as long as no-one gets personal about anyone at my club we will not have a problem about that.
"But what I do know is by going and winning points you can turn that opinion very quickly.
"It is fair to say it is a huge game. Because of the circumstances of both clubs there is no doubt this is the biggest game of the season - absolutely."