Steve Kean and Owen Coyle face the biggest test of their careers

By Alan Hansen
BBC Sport football expert
Last updated on .From the section Football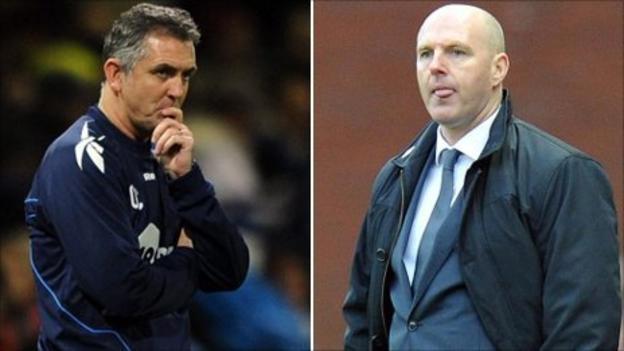 Blackburn Rovers manager Steve Kean and his Bolton Wanderers counterpart Owen Coyle will be under pressure of the most severe kind when they meet at Ewood Park on Tuesday.
I will never say a manager should be sacked because I did not have the nerve to go into the job myself - but reality and results dictate that a man's future may be decided by this result.
Even the winner may only be granted a little more leeway, time and respite. For the loser the consequences could be devastating.
Kean has had to contend with pressure and criticism almost from the day he was appointed to succeed Sam Allardyce after he was sacked by owners Venky's, who had only just bought Blackburn.
When results are bad everyone must take their share of the blame and this applies to Venky's. Allardyce was doing a very sound job and the reasons behind his dismissal have never really been fully explained.
They say you should never be surprised by anything in football but the decision to remove Allardyce was as much of a shock as anything you get when it comes to a manager losing his job.
This left Kean in charge and it became clear very quickly that many of the fans had not taken to his appointment. He needed results quickly to win them over and that has not happened, leading to the protests we now see on a regular basis at Ewood Park.
I accept that supporters pay their money and have the right to express themselves, but no team or manager I know of has ever been helped by this sort of thing.
When I played, the opposition supporters were meaningless other than to maybe give the home team a lift.
But if your own supporters are against you then no-one can tell me this does not have an adverse effect.
The teams I played in always regarded it as a compliment if the opposition supporters were against us - if they were also turning on their own team and manager then that was a very welcome bonus.
Kean and Blackburn's players have had to contend with this before, during and after many games - the crowd even jeered recently when Yakubu went to his manager after scoring against Swansea City. This is so counter-productive, it is embarrassing.
And yet, for all this, I believe Kean has handled himself and his predicament really well.
Blackburn go into this game looking a better team than Bolton. I would back them to win this one, especially given Coyle's side have lost four in a row away from home.
The one thing I think Kean can rely on is his players playing for him on Tuesday. Results may not have gone for them but they do not look like a team that has lost faith in their manager.
I'm not suggesting for a moment this is a team that will eventually soar into the top half of the table, but they have not played that badly in spells. They have lost games narrowly and some crucial decisions have gone against them.
Kean has undoubtedly had real problems convincing Blackburn's fans that he is the man for the job and, once supporters turn against you to such an extent, you need a pretty much unbelievable run of results to turn it back around.
The problem is that, if you are in this situation with your own fans, you can still have that good run and yet all the negative stuff can come back to haunt you on the back of one bad result and performance.
Kean wants the opportunity to turn all that around. Whether he will get the chance is one of the things that is on the line at Ewood Park on Tuesday.
If you look at the two sides, Bolton are the ones with bigger problems than Blackburn at the moment. It is amazing how things can turn in the space of a few months after Coyle was rightly winning plaudits for his work at Bolton last season.
Bolton never seem to have recovered fully from taking such a heavy beating in the FA Cup semi-final against Stoke City at Wembley. When I see them now they seem to be getting well beaten.
It should be stressed that there have been mitigating circumstances. They have lost the goals and threat of Johan Elmander and the on-loan Daniel Sturridge from last season, while Kevin Davies has not been at his best.
Injury has deprived them of two big players in Stuart Holden and Lee Chung-Yong. Add to that a defence that looks all over the place and it is easy to detect the extent of the problems Coyle needs to solve.
Bolton are currently that horrible combination of a team that does not score enough goals while at the same time leaking too many. Any team with that mixture struggles to find good news in any game.
They also had a very tough start to the season so it was inevitable they would not get off to a flying start.
But, when it came to the games they probably thought they could win, their confidence had been sapped by some heavy defeats.
Coyle needs to find some of last season's better form from somewhere but I have to say that, on the evidence of what I have seen of Bolton, especially away, it is hard to see that happening at the moment.
Bolton's manager called this game the biggest of the season for both clubs. He is not wrong.