Manager Steve Eyre sacked by Rochdale
Last updated on .From the section Football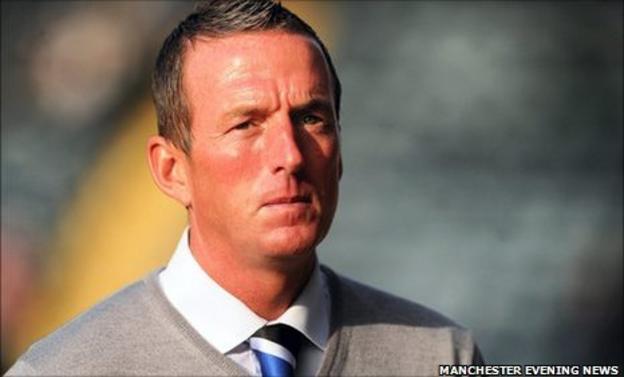 Rochdale have fired manager Steve Eyre and assistant boss Frankie Bunn after six months in charge.
Chairman Chris Dunphy told BBC Radio Manchester: "Unfortunately we're in a results-driven industry and four wins out of 21 is not acceptable."
Eyre leaves Spotland with Dale 22nd in League One following Saturday's 0-0 draw with relegation rivals Yeovil.
He told BBC Radio Manchester: "We've put a lot of good things into place and we possibly won't see the fruition of that for some time.
"Obviously you're always hopeful that when you get a bit of an opportunity you get a little bit of time.
"I don't think there has been too many poor performances, so while we were creating chances, scoring goals and playing well I obviously had incredible self belief in the team and staff.
"I don't think that the players will end up in those bottom four slots, whether myself and Frank would have stayed at the club, or now as we leave."
Eyre had taken over at Dale from Keith Hill and David Flitcroft who moved to Championship side Barnsley in June.
That management team had led the club to promotion from League Two for the first time in 41 years and then finished ninth during their first year in League One.
Eyre moved to Spotland after a 21-year spell at Manchester City working with the side's youngsters and won five youth titles and the FA Youth Cup during his time at the club.
But despite his League One side gaining a reputation for an attractive, passing style of football, Rochdale have struggled this season, scoring just 22 goals and winning only four of their 21 league games so far.
The highlight of his tenure will be the 2-0 win at Premier League side QPR in the second round of the Carling Cup.
"I do have nice things to say about Steve Eyre and Frankie Bunn, they're nice people and they worked very hard for the club," added Dunphy.
"[But] if we carry on this form throughout the season we'll be facing certain relegation.
"We currently have a squad of 28 players which is the biggest Rochdale Football Club's ever had by a long way - Keith's squad was about 18 or 19.
"We're also on the biggest budget we've ever done at Rochdale, which is not a fortune but it is a big clump.
"You add them all together and I feel that I've done everything I can as chairman to support the management team, and if we're not getting results the only thing I can do is change the management team."
Youth team coach Chris Beech will take temporary charge of the club, with Rochdale's next fixture coming against Tranmere on Boxing Day.