Blackburn v Bolton biggest for years, says Nathan Blake
By Marc Higginson
BBC Sport
Last updated on .From the section Football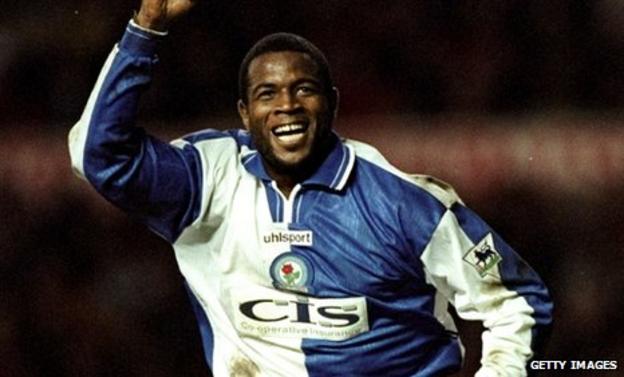 Former Bolton and Blackburn striker Nathan Blake believes Tuesday's clash between the relegation-threatened pair is one of the biggest in years.
Bolton are bottom of the Premier League, five points from safety, with Rovers only one place above them.
"It's a massive game anyway, but I can never remember there being so much emphasis on it," Blake told BBC Sport.
"I think the winner can go on and get out of trouble. Whoever loses, I can see it being a long season."
Blake, who scored 48 goals in almost three years at Wanderers before signing for Blackburn in a £4.25m transfer, added: "If Bolton or Blackburn lose the game, I wouldn't say they will get relegated, but we are at the halfway point in the season now and, while the season is not won or lost in one game, it will feel like it.
"If you win the game, you draw confidence from it and it is whether or not you can go on and get another good result on the back of it. You start to build some momentum."
BBC Sport's Alan Hansen has suggested that Rovers manager Steve Kean or Bolton boss Owen Coyle could lose their job if the result at Ewood Park goes against them.
And former Rovers midfielder Robbie Savage believes Kean should be sacked regardless of the game's outcome.
"Get rid of the [Blackburn] manager, simple as that," he told BBC Radio 5 live. "Win, lose or draw, get rid of him.
"The fans aren't enjoying watching them, it is a bad atmosphere around the club - it is not the same club.
"The guy is inexperienced at that level and Blackburn are rubbish."
Former Bolton striker Dean Holdsworth, now manager of League Two side Aldershot, says the pressure will not affect Owen Coyle's preparations for the game.
"He'll still do exactly the same as he would if he was on a winning run," Holdsworth told 5 live.
"He hasn't become a bad manager overnight, but results are what you're judged on.
"Both team's managers are finding themselves at the wrong end of criticism. Unfortunately for them it's a results-based business."
While Blake believes Bolton are better equipped to get out of trouble, the former Wales international does have some sympathy with under-fire Rovers boss Kean.
"I think Bolton have Premier League experience and youth on their side," he added.
"If I was a manager - and you said to pick one or the other - I would prefer the one with experience and youth on their side so I would go with Bolton.
"I don't know Steve Kean but stuff has happened to him which is so unfortunate.
"The team continues to be held together by [defender Chris] Samba. When Samba plays, they look like a decent outfit but when he doesn't they capitulate which is very worrying."