Manchester City hold talks with AC Milan over Tevez
Last updated on .From the section Football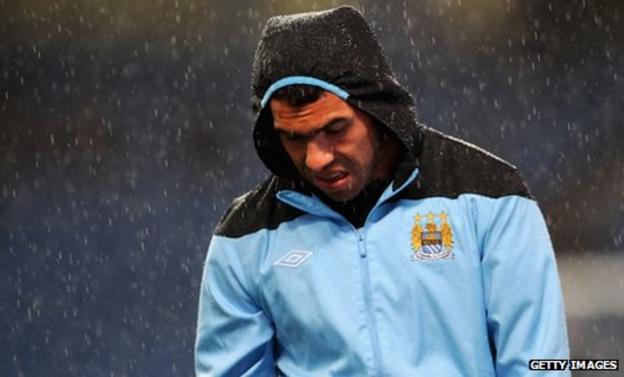 Manchester City and AC Milan officials have met to discuss the transfer of striker Carlos Tevez.
Sources in Italy have told the BBC that Ariedo Braida, Milan's sports director, and a lawyer for the Italian club met City officials on Thursday.
The Milan contingent confirmed their interest in Tevez, 27, but no deal has been reached yet.
On Tuesday, City manager Roberto Mancini said: "I hope we can find a good solution for us and for Carlos."
He added: "Milan know we can't put him on loan but if they want to buy Carlos, for us it is OK."
But it is understood City would consider a deal whereby Tevez is loaned to Milan for the rest of the season provided a cast-iron guarantee is put in place now for permanent transfer next summer.
Milan have previously had a bid of £19.3m for the Argentine rejected by the Premier League leaders.
"When Manchester City buy a player, they have to pay a lot of money," Mancini continued.
"But when we want to sell them, they have to go on loan. This is not good. It is not correct for the other players.
"Manchester City paid Carlos a lot of money for three years. It is correct that if one club, it could be Milan, Juventus, PSG, Inter, want him, they pay Carlos for his value. This is correct."
Mancini also hinted that City could add to their squad in the January transfer window, with Tevez set to leave and Kolo and Yaya Toure on African Cup of Nations duty with the Ivory Coast.
He said: "We could have a big problem because we lose Kolo and Yaya for one month and we play some very difficult games."
Serie A giants Milan have been chasing Tevez for several weeks, with the sticking point being the terms of the transfer.
On Monday, the Italian club's vice-president Adriano Galliani confirmed in interviews with Italian media that a meeting with City had been arranged.
He said: "On Thursday we have an appointment with Manchester City for Tevez but it will probably not be the decisive one to conclude negotiations.
"We're not going to take him outright, we're offering a free loan with the right to buy in June.
"The player wants to come to us and not PSG [Paris St Germain] and we hope City accept the offer."
Tevez is currently in his native Argentina having flown home without City's permission in November.
He has also been linked with a move to Paris St Germain, but the French side's director of football Leonardo said he will not stand in AC Milan's way if they can conclude a deal.
Leonardo, a former Milan player and manager, told Italian newspaper La Repubblica: "I will not steal Tevez from Milan.
"I have not contacted the player and I will not get in between the Rossoneri's affairs.
"Even though I didn't share the views of [AC Milan owner Silvio] Berlusconi which meant it was impossible for me to stay at Milan, the relations with the club are good."
Tevez has not played for City since they beat Birmingham on 21 September.
City boss Roberto Mancini alleged he refused to come off the substitutes' bench in September's Champions League defeat at Bayern Munich, while the player maintained there had been a misunderstanding.
An internal club investigation concluded that Tevez, who joined City in July 2009, was guilty of five breaches of his contract and he was fined four weeks' wages, reduced to two following intervention from the Professional Footballers' Association.