Ruel Fox settles far from Premier League years
By Chris Osborne
BBC Sport
Last updated on .From the section Football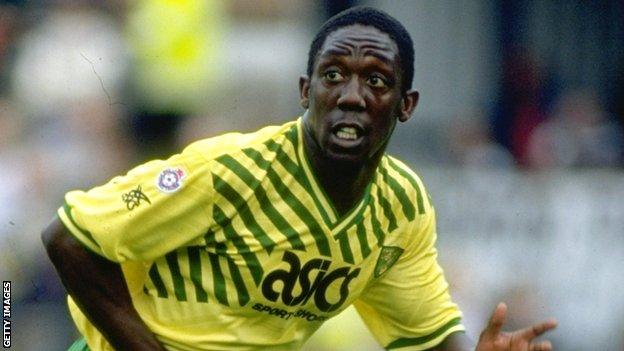 It is a Monday morning on the outskirts of Ipswich and former top-flight star Ruel Fox is being punched by seven women.
The septet of ladies are his first class of the week, being put through their paces with some boxing exercises.
When the gloves have been put away he makes the short trip around the corner to Whitton United, the club a stone's throw away from his childhood home where he is now chairman.
They are humble surroundings for a man who stepped onto a top-flight pitch 337 times, scoring 47 goals in the process.
"I've always had a connection here," he said. "Even when I was playing professional football, straight after a Saturday I'd come back here.
"It's just one of those places that just draws me. I love coming back here. I get treated normally. I get the same stick as everybody else gets. I still get cones put on top of my car and stuff like that."
Fox, the proud Suffolk boy, made his name at Norwich, rivals and old enemies of fellow East Anglians Ipswich Town.
He debuted for the Canaries in the 1986-87 campaign and, by the time Norwich were beating Bayern Munich on the German giants' own patch in the Uefa Cup in 1993, the diminutive wideman was an integral cog in a machine that contained Jeremy Goss, Chris Sutton and Mark Robins.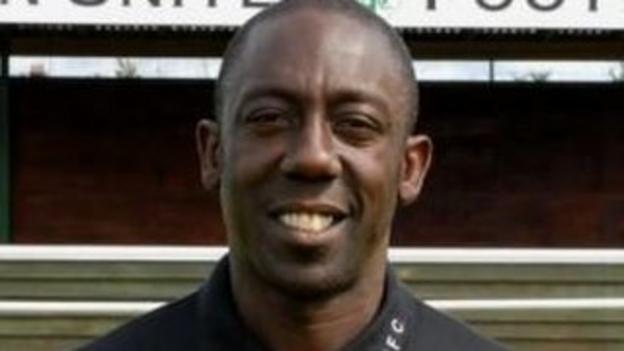 Spells at Newcastle, Spurs and West Brom followed, as well as a stint scouting for the Caribbean island of Montserrat.
In all, his career took in 486 senior games and £6.45m of transfer fees. But it was gone in a heartbeat.
"For me I blinked and it all just happened quickly," he admitted.
"It only feels real when people remind me of it. I know it might sound big headed but it doesn't bother me to a certain extent because it's all I've known.
"I was lucky enough to have the career I had but I've never forgotten my roots. Everything I do brings me back to this Ipswich area and I'm proud to come from Whitton."
And while management had never been on the agenda for Fox, three years ago he became 'Mr Chairman'.
"The timing was right. They were struggling a bit and I was going to be director of football," he explained.
"The chairman's position came up and, reluctantly, I was the one who was recommended. So I took it on.
"It's very difficult because we're self-sufficient but we're giving something to the community. We're allowing kids to come and play football."
The Greens were denied promotion from the Ridgeons First Division last season because their ground was deemed not up to scratch.
The King George V pitch now meets the criteria and, with Whitton second in the table, a leap to the next rung of the ladder is a genuine possibility.
Overseeing a rise in fortunes for the club would improve Fox's PR image in Suffolk.
"Don't forget, I played for Norwich so I'm not very popular as it is," he joked.
But that leaves one pressing question. Why did the boy from Ipswich choose Norwich over Town? He is quick to put the record straight.
"There's a lot of mix ups. People think I turned down Ipswich to go there," he said.
"I had a friend across the street called Louis Donowa who was already at Norwich. I kept hammering him for a trial and when I finally got it, Ipswich invited me down to train.
"Ipswich asked me back but I had already told Norwich I was going there. It was the right thing to do. There was just something there. A feeling.
"It was a club that made you really comfortable. I knew it was the right decision as soon as I got there."