Stephen Kenny resigns as Derry City boss to take Shamrock Rovers job
Last updated on .From the section Football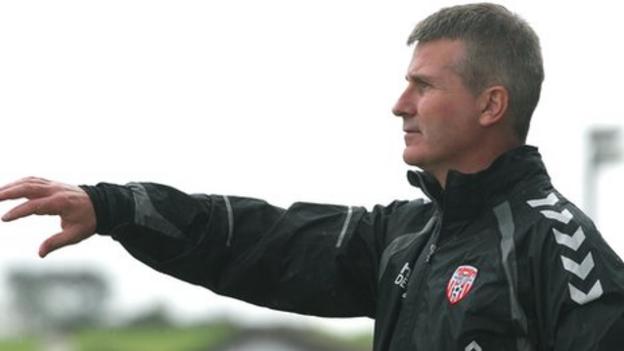 Derry City manager Stephen Kenny has quit the club to take the vacant job at Shamrock Rovers.
Dubliner Kenny informed Derry City chairman Philip O'Doherty on Saturday morning that he was leaving the Brandywell club.
The League of Ireland champions earmarked Kenny as the man to replace Michael O'Neill, who is set to named new Northern Ireland manager.
Kenny, in his second spell at Derry, had been offered a contract extension.
His current deal expired at the end of the 2012 campaign with the new offer taking him up to the end of the 2014 season.
It is believed that Rovers will pay Derry City compensation for Kenny's services.
Kenny met with the Derry chairman early on Saturday morning to confirm that he was quitting the club.
"I met him this morning at 9.45 and his first words were 'It's time to go home'," Derry chairman Mr O'Doherty told BBC Radio Foyle.
"It's very sad and Stephen was quite emotional himself.
"The club are very disappointed but we understand that Shamrock Rovers are his hometown club and Stephen lived in Tallaght until he was 20 years of age."
The Derry chairman acknowledged that Kenny's departure was a "very bad Christmas present".
"It took him a long time to make a decision and I suppose that's testimony to how close he was to the people of Derry.
"But when the Michael O'Neill thing started to take place, we all suspected that there would be an approach.
"It's very disappointing but I can understand it too.
"If it had been any other club, I would have been telling Stephen to wise up but Shamrock Rovers come from Tallaght and it was going to be an attraction for him."
The Derry chairman said that the club have not earmarked any successor.
"We've about five weeks until we're supposed to be beginning pre-season training.
"It isn't good timing at all but the board are going to meet at 12 o'clock (on Saturday) to start looking at a successor but initially people will be shocked to hear this on Christmas Eve."