Luis Suarez racism case most difficult of modern times - Davies
Last updated on .From the section Football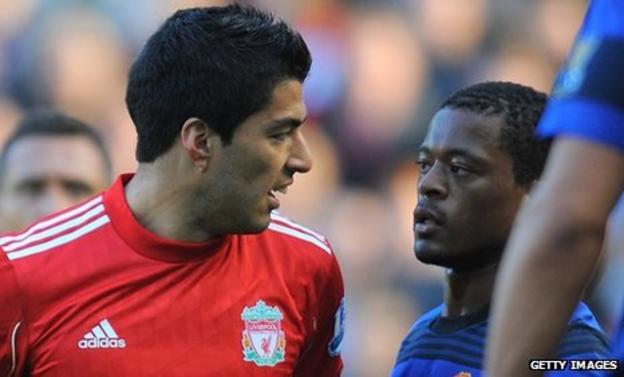 The Luis Suarez racism case is "one of the most difficult of modern times", according to former Football Association chief David Davies.
The Liverpool striker has been given an eight-match ban for racially abusing Manchester United's Patrice Evra.
"This has been one of the most difficult disciplinary cases of modern times because of language and cultural issues," Davies told BBC Radio 5 live.
"The FA has got to be consistent but it has also got to be fair."
Former executive director Davies said the FA was "way ahead" of Uefa and Fifa, the European and world governing bodies for football, when it came to tackling racism in football.
"The FA has been at the forefront of fighting racism over more than a decade, and using football to do so - perhaps way ahead of Uefa, let alone Fifa," he added.
"Yes, they've got to be consistent, but they've also got to be fair and right."
Lord Ouseley, chairman of Kick it Out, football's equality and inclusion campaign, said it did not follow from the guilty verdict that Suarez was a racist but that the FA's decision had to be arrived at on the basis of the comments made.
"All players playing in our jurisdiction know what standards are expected," Lord Ouseley said.
"No-one is saying he's a racist - he's probably a very nice guy. He's alleged to have made abusive comments and that's the basis on which [the case] was considered."
Professional Footballers' Association chief executive Gordon Taylor said: "It's important that when players come to this country they appreciate that while we are very culturally diverse, very cosmopolitan, that's it's also a job for the PFA and the FA and the clubs themselves to educate them.
"That means not just the rules of the game but what's acceptable as the law of the land, and what isn't acceptable both on and off the pitch. This is about treating people equally."
Taylor also revealed how attempts by his organisation to mediate between Luis Suarez and Patrice Evra failed.
"I didn't want [the case] to escalate, but I wasn't able to get the players together," Taylor said.
Former Scotland and Chelsea winger Pat Nevin agreed that the cultural aspect of the case was unusual.
He told BBC Sport: "I've campaigned against racism in football since I was 18 but it's such a difficult one.
"I found the Luis Suarez case difficult because it seemed to come down to one man's word against another's - and you have to accept that, in his culture, it may be different.
"What the Suarez case does do is send out a very strong message that racism will not be tolerated in any form, which is obviously a very good thing."
In addition to the ban, Suarez has also been fined £40,000. Liverpool have 14 days to make an appeal.