Matt Bloomfield column: The Christmas regime

By Matt Bloomfield
Wycombe Wanderers midfielder
Last updated on .From the section Football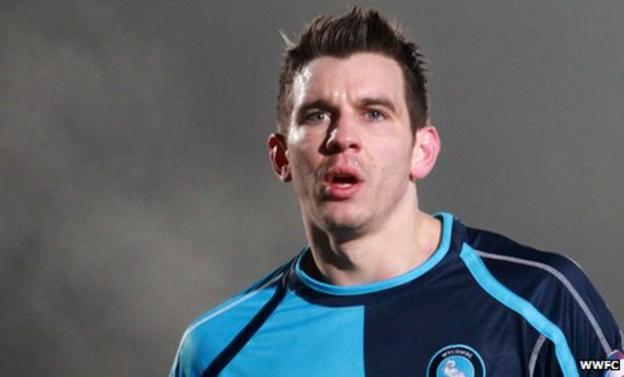 The festive period is known for being a busy time of year for footballers. This year we have got three games in a week and I can't wait.
I love the fact that we are so busy with the games coming thick and fast. It feels like you spend the whole week either preparing for or recovering from a match. Nine points are on offer and if things go well you can really use it to kick-start your season.
It's obviously a time when players can't indulge along with the rest of their families. When I sit down for my Christmas dinner it will be a lot smaller than it would be if I didn't have a game to prepare for!
The pudding will have to be given a miss, and I will have to make sure I leave room for my usual pre-match dinner of chicken and pasta.
I think it's a great family day out to watch the football on Boxing Day, or over the new year, and it definitely adds to the atmosphere in these games. After a day at home eating more turkey than in the whole of the rest of the year, I'm sure supporters all over the country look forward to getting out in the fresh air to watch their team.
There will be a lot of players away from family at Christmas which obviously isn't easy. Christmas is a time for family, but it is certainly a small price to pay to be able to do a job that we love. Depending on our training schedule, I am hoping to be able to pop back to Suffolk to visit my family at some point.
It is eight years this Christmas since I signed for Wycombe from Ipswich Town. I had only trained with my new team-mates once when I signed, and was told by then manager Tony Adams to report to Adams Park at 2.00pm on Christmas Day to train and travel to Brighton.
We had re-heated lasagne when we got to the hotel because there was only one person working. I had just moved away from home and was in a hotel in Brighton with a group of blokes I had hardly met.
It was certainly a Christmas I won't forget - I was an unused substitute, and we lost 4-0.
Last Friday afternoon, we travelled up to Carlisle through snow for 90% of the journey. All I could think about all the way up was a trip we had to Darlington a few years ago. That trip, some of the lads had to get separate trains because they couldn't even get to the motorway to meet the bus due to the weather.
We woke up on the morning of the game only for it to be called off and we made our journey south again. Luckily the weather was fine on Saturday and we came away with a well-deserved point.
I hope everyone has a great Christmas - see you again in the New Year.