Cameroon star Samuel Eto'o puts his case over strike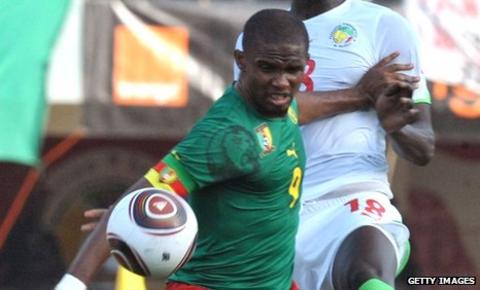 Cameroon captain Samuel Eto'o says he has no regrets over the strike action which has resulted in him being banned for 15 matches.
The sanction was imposed by the Cameroon Football Federation (Fecafoot) after the squad refused to travel to a friendly against Algeria in a row over late payment of fees.
"We do not regret our action, we wanted to make it clear that things could not continue as before," Eto'o said in a television interview in Cameroon on Wednesday.
"We seized the opportunity to try to bring about solutions to Cameroonian football."
Eto'o is not challenging the ban and could miss the whole of Cameroon's qualifying campaign for the 2013 Africa Cup of Nations and the 2014 World Cup.
He made it clear that the players were unhappy with Fecafoot over a number of issues and the strike was not just about the appearance fees which were the immediate spark.
He said the treatment of the squad was not acceptable.
"It is difficult to explain why officials would prefer to fly players eight hours just to go and train elsewhere when it can be done in the country," Eto'o said.
Fans in Cameroon have been planning demonstrations in his support but Eto'o said that was not necessary - and he insisted that he will return to the national team after the end of his ban, as long as he is still fit.