Supporters Federation criticises Tottenham for use of headcams
By Richard Conway
BBC Sport
Last updated on .From the section Football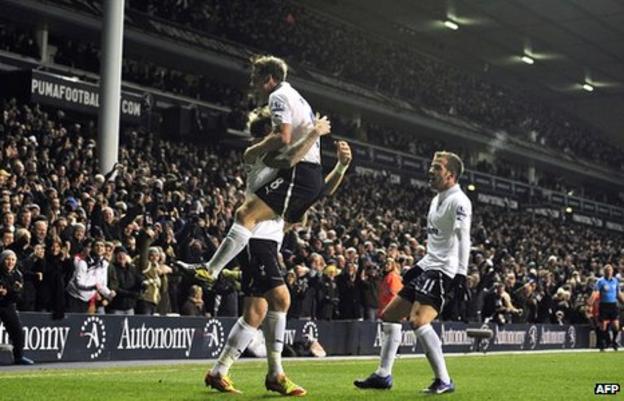 The Football Supporters Federation and human rights groups have criticised Tottenham for giving stewards head-mounted cameras to monitor fans.
Before Thursday's Chelsea match, Spurs said: "Stewards will again wear headcams and adopt a zero-tolerance policy."
But FSF chief Malcolm Clark said: "Fans often get upset when police film them.
"It's unfortunate Spurs use cameras on stewards without engaging in a wider discussion on how they will be used."
Tottenham have defended their continued use of cameras by stewards, insisting that they have been in operation at White Hart Lane for many seasons and are not unique to football.
In announcing that cameras would be used, the club statement read: "A reminder to all fans, both home and away, that foul, abusive, homophobic or racist language will not be tolerated at White Hart Lane."
But Clark added: "There's the potential for tensions if fans are filmed by stewards without, as they see it, a good reason.
"We have questions over when it will be used. At all games? Or just some games? And what instructions will be given to stewards about when to film? Will it be under particular circumstances or all circumstances?"
"If they want FSF support then this isn't the way to go about it."
The club have agreed to meet with the FSF to discuss concerns over the use of headcams.
"Headcams have been used by stewards across a wide variety of sports for a number of years," the club confirmed in a statement to the BBC.
"The comfort and safety of supporters is paramount. This is just one of a number of measures put in place by Tottenham Hotspur to deter unacceptable behaviour.
"It supports the use of CCTV which is set out within the ground regulations at all major sporting stadia. We shall be monitoring both home and away fans for any foul, abusive, racist, anti-Semitic or homophobic chanting."
Shami Chakrabarti, the director of the human rights campaign group Liberty, has also questioned the use of cameras by stewards at matches.
"Football clubs are right to want to end the racist, homophobic and generally nasty behaviour that sometimes shames our national sport," she said.
"Most fans are decent people who don't become monsters on swapping police and nurse's uniforms for team colours on an expensive night out.
"Is constant close surveillance the best way to create a family atmosphere? Does treating people like criminals really inspire courtesy and respect?"
A spokesman for the England and Wales Cricket Board confirmed that their stewards have also used head-mounted cameras at a number of selected international cricket matches for the last three years, using the footage primarily to assist with cases where fans are ejected from the stadium.