Swansea City boss Brendan Rodgers confident of Joe Allen staying
Last updated on .From the section Football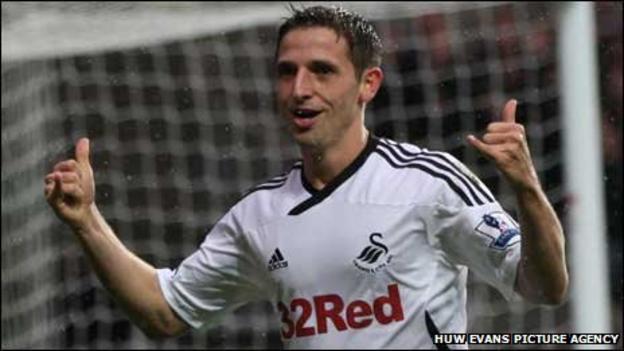 Brendan Rodgers hopes Joe Allen remains at Swansea City even if their Premier League rivals attempt to sign the Wales international in the transfer window.
The midfielder has been a key player in Swansea's debut season in the Premier League, with manager Rodgers saying his command of games is among the "very best players at this level".
That has led to speculation that clubs might bid for Allen, 21, in January.
But Rodgers said: "Players understand that this club is a good fit for them."
He added: "We're a team that is riding high in confidence and a group that is growing.
"So for the likes of a Joe Allen, there is probably not too many better places he can be in European football to develop his game.
"He is a real talent. Joe has been a real figurehead of the team this season.
"His awareness and understanding where his space is, is right up there with the very best players at this level. His command of a game and how he has taken control of games at this level has been incredible.
"There's no doubt looking into the future that certainly he is going to be a big talent.
"He is a really clever and intelligent lad who understands where he is in his career and at 21 years of age, he has maybe 14 years ahead of him at a real high level."
Allen, who made his Wales debut against Estonia in May 2009 , signed a new Swansea deal until 2015 in August and has caught the eye with some superb performances in his debut season in the Premier League.
But Swans chairman Huw Jenkins appreciated that every player has his price.
"We want to build our squad and keep our better players but we all know the reality of football," said Jenkins.
"There are clubs out there with far more money than we've got as a club.
"The fact we're in the Premier League, we have upgraded quite a few of the players' contracts so they are up to the level of the majority of Premier League salaries.
"And the way we're playing and the way they are developing, you would think they would be happy to stay here and keep their careers moving forward with us."
But Rodgers is "not concerned" about Allen attracting the attention of Swansea's top-flight rivals as the academy product will be a "key" figure to the Welsh club surviving in the Premier League.
Allen's tackling, passing and playmaking abilities have been key to Swansea this season and have established him as an international regular alongside Aaron Ramsey in the Wales midfield.
"He was off the back of his first full season in the Championship playing regularly," said Rodgers.
"And he's now becoming a key figure of this team that suits his style perfectly.
"There will be admiration from people looking at him and thinking that he can play at their clubs but I have no concerns about any of the players that I've got."