Football-related arrests 'at record low'
Last updated on .From the section Football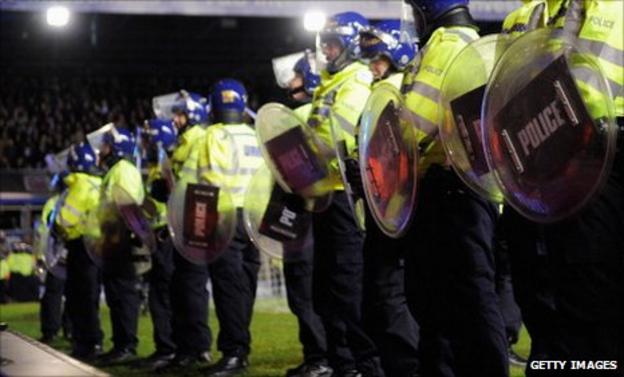 Arrests for football-related disorder in England and Wales are at a record low, the Home Office has said.
Arrests at matches fell by 9% last season, with a total of 3,089 people detained, a drop of 302.
This is the lowest figure since records began in the 1984-5 season and equates to an average of one arrest per match.
Incidents of violent disorder fell considerably, from 578 to 330, and banning orders have also fallen, down to 3,173 from 3,248.
However, incidents of racist or indecent chanting rose 28% (from 31 to 43) and alcohol offences also increased, up 7% (from 968 to 1,038), while ticket touting was up 32% (from 69 to 102).
Only one English fan was arrested at the World Cup, after he confronted members of the England team following a match in Cape Town.
The figures include all football-specific offences and a range of crimes committed in connection with a match.
In the Premier League, Manchester United had the most total arrests with 276, followed by Sunderland (126) and Newcastle (123).
Fulham had the fewest fans arrested with only 12.
Supporters of Championship side Cardiff City topped the banning order list for the season, with 61, ahead of Chelsea (58) and Manchester United (40).
No arrests were made at 71% of matches, while two arrests or fewer were made at 86% of matches.
The figures also include Champions League and Europa League matches abroad, where 14 arrests were made from 40 matches involving English and Welsh clubs.
Crime Prevention Minister Lord Henley said: "Football policing is a real British success story. Where hooliganism was once described as 'the English disease', we now set an example for others to follow.
"But we are not complacent and we will expect to see England fans continue their good behaviour at next year's European Championships, where the eyes of the world will be on them once again."
Assistant Chief Constable Andy Holt, who leads on football policing for the Association of Chief Police Officers, said: "Over the past two decades the UK has made steady progress in reducing football-related violence and disorder.
"The service has worked hard with football clubs and football supporters' associations to ensure that genuine fans can attend games without incident and it's reassuring that the figures reflect that a very small minority of fans have come to police notice."
The number of those attending regulated matches in England and Wales reached 37m last year, meaning those arrested represent less than 0.01% of that season's spectators.