Malky Mackay promotes Cardiff self-criticism and debate
Last updated on .From the section Football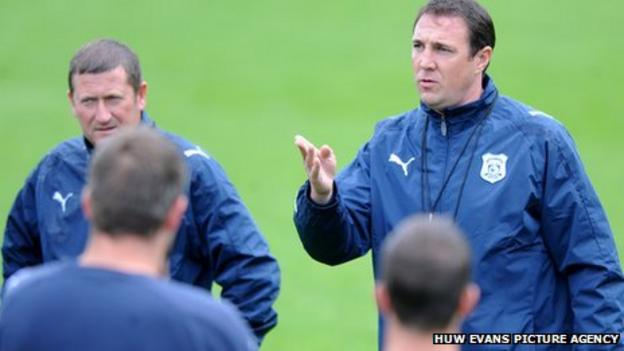 Cardiff City manager Malky Mackay is encouraging his players to openly criticise each other to ensure they learn from their mistakes.
He said that bringing any problems out into the open allows them to move on.
"It's not about sweeping things under the carpet when you win or not," said Mackay.
"It's not having people beaten and flayed when we get beat. It's about learning.
"It's about them beginning to see things for themselves and that's one of the things I absolutely want to bring to the group, where they are able to openly and constructively criticise each other in a room and discuss where they think people could've done better.
"So it's not a case of me putting the spotlight on someone and saying 'that was terrible'. It's about us sitting there and asking what could we have done better.
"Then you get people openly talking to each other about it so it's a debate, and it's learning from it."
Cardiff were accused of lacking team spirit last season, particularly towards the end of the season when their automatic promotion hopes faded.
Centre back Anthony Gerrard, who has returned to the club after spending the majority of last season on loan at Hull, said the dressing room was invested by "cliques" and "egos".
But Mackay believes he is building a tightly-knit squad since taking over from Dave Jones in June and that allows him to give the players an opportunity to voice their opinions.
"We've got a real hungry group right now and a group that is so, so tight," he said.
"We've certainly got no cliques in the group that sits in front of me. There no little group of people, it's one big group.
"I've seen that on numerous occasions either at training or when we're mixing away from here when we're travelling to games. They are a very humble group of people."
On Monday, Mackay will return to Vicarage Road for the first time since leaving Watford to join the Bluebirds.
He angered Hornets fans by taking many of the club's backroom staff with him to south Wales, and then persuaded midfielder Don Cowie to follow on a free transfer.
Mackay strongly denied "ridiculous accusations" he had encouraged the 28-year-old to reject Watford's offer of a new contract towards the end of last season, and claimed he was never given an opportunity to pay tribute to the club before leaving for Cardiff.
"From what I'm hearing, one of the problems was the fact I never made a statement when I left," said Mackay, who spent six years as a player and then a manager at Watford.
"But to clear that one up I wasn't asked to make a statement by the club or by the local at the time on my time at the football club.
"And there was a contractual situation in terms of leaving the football club that I couldn't actually talk about my situation there.
"It was unfortunate at the time and I'm looking forward to seeing people at the club on Monday."