Hearts will be fired up, says Motherwell manager Stuart McCall
Last updated on .From the section Football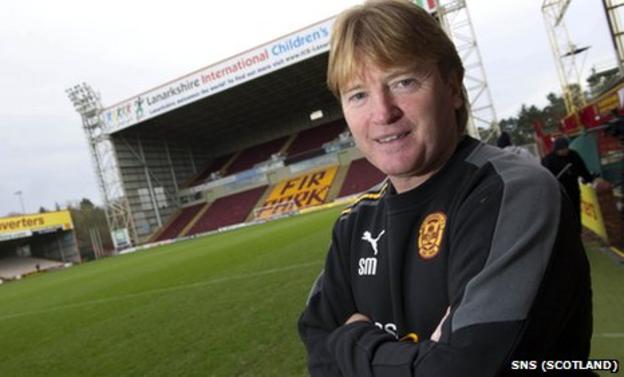 Motherwell manager Stuart McCall says Hearts players will be desperate to showcase themselves against his side in order to get a transfer.
"Some of them will be in the shop window," said McCall ahead of 'Well's trip to Edinburgh.
"They'll be wanting to try even harder, if that's possible."
Hearts were 4-0 winners against Dunfermline last weekend and McCall expects another strong showing from Paulo Sergio's side.
"There'll be scouts galore there no doubt and they're playing for their own personal future," said McCall.
"As much as a lot of them would love to be at Hearts - it's a great club - the way the club's going at the minute, they're playing to probably to get away from it.
"To do that, to get away, they've got to produce it on the park and that's what they'll be trying to do.
"That's its own motivation for the players plus they've got supporters coming in week in, week out giving them great support.
"Regardless of all the problems they're having, they've still got a very talented squad and a good group of players so it doesn't make our job any easier or more difficult because they've got good players."
McCall also expressed his sadness at the plight of Hearts squad.
"Hearts are a terrific football club," added McCall. "It's really sad to see what's going on, not only for the players and their families but the people that support the club and are associated with the club.
"We just hope in the new year that they can turn over a new leaf and something can happen and they can get on the upward trend again.
"It's shocking. Going back to my time at Bradford, I had just left the club and they went into administration and the players never got paid for three months over the close season.
"I had close friends and I knew what they were going with. They couldn't pay their mortgages. They were struggling.
"And I'm sure a lot of the Hearts lads are in the same situation. It's a nightmare for them and hopefully they can come out of it soon."