Chairman John Ryan says Doncaster transfer system could catch on
Last updated on .From the section Football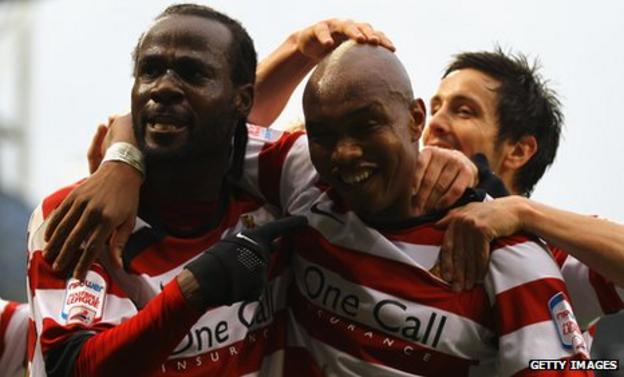 Chairman John Ryan says Doncaster's transfer policy could become a model for other clubs to follow.
Ryan told BBC Sport: "We were the innovators. If it works well - the test for that will be if we stay up - it may well be [a model].
"We had to do something drastic and we have brought some quality players in."
According to Ryan, Doncaster needed to take the "drastic" action of remoulding their transfer policy because they were mired at the foot of the Championship with one point from seven games, leading to the dismissal of manager Sean O'Driscoll.
Dean Saunders arrived as his replacement and McKay was given a unique, exclusive two-year consultancy to handle transfers.
McKay has targeted out-of-favour players on loan or men who are out of contract. Doncaster pay a portion of the player's wages and get part of the fee if the player is sold on, which has seen them sign six players on loan.
Discussing the relationships in the management framework, Ryan said: "It works well between Willie, Dean and myself. I've known Willie for a few years and Dean has been a breath of fresh air, being very positive.
"They have convinced me that we would have a good chance of staying up if we did it this way."
Big names coming in have helped the club's cause. Pascal Chimbonda joined as a free agent after leaving QPR and Diouf arrived following his release by Blackburn.
Diouf signed an 18-month contract extension on Thursday, after an initial trial period, on what are described as "modest" terms.
On the same day, three more players with Champions League experience joined on short-term deals.
Midfielder Damien Plessis signed from Panathinaikos until the end of the season. Forwards Habib Bamogo, formerly of Marseille, and Mamadou Bagoyoko, who was released by Greek side PAS Giannina, came on board.
Discussing the need to bring in the innovative policy, Ryan added: "Because of the small fan base, we haven't got the wealth to compete with the likes of West Ham, Southampton, Leicester and even clubs who have recently received parachute payments such as Blackpool."
Doncaster's fortunes have improved on the pitch - they have collected 18 points from 15 games since O'Driscoll's departure - moving them off the foot of the table and to within two points of Bristol City, who are one position above the relegation zone.
Ryan thinks the last couple of months have brought back a feel-good factor to the club.
He said: "It looked like we were going to be relegated by Christmas. We had one point from the first seven games, which is a desperate situation.
"Although we are still in the relegation zone, obviously hope is springing eternal now. We have had wins against the likes of Leicester and Southampton recently."
Asked if he has drawn up a list of January transfer targets, Ryan joked: "I am sure that Willie has. I can't pronounce them, that's the problem."
The system is winning over the fans. Len South, of Doncaster Rovers Supporters' Club, told BBC Sport: "A club like Doncaster is small and unfashionable and we wouldn't have been able to attract players like Diouf.
"Some fans were unhappy, saying that it could undermine the other players, but it's been said that the new players are passing on their experience.
"When Willie McKay first came in I didn't think it was a good idea. But he seems to be acting for the good of Doncaster Rovers and we have to thank him for that.
"A lot of credit must go to the board, John Ryan and Dick Watson, for coming up with this. They're heroes if it works. If not, they'll be vilified. I hope it works."