Sir Alex Ferguson feels ban for Luis Suarez was right
Last updated on .From the section Football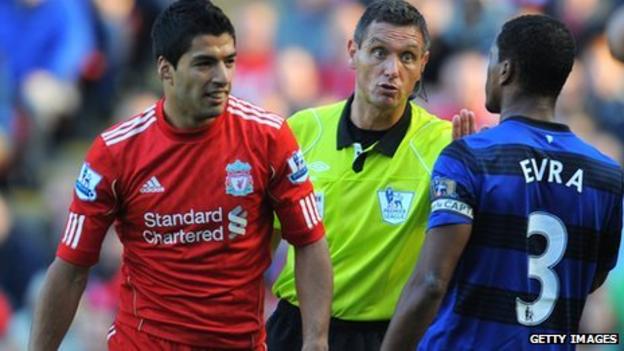 Sir Alex Ferguson believes the Football Association made "the right decision" in banning Luis Suarez for eight games after he racially abused Patrice Evra.
Forward Suarez was also handed a £40,000 fine after he used "insulting words in reference to Manchester United defender Evra's colour".
Liverpool criticised the FA's verdict in a strongly worded statement.
But United boss Ferguson said: "We're satisfied they [the FA's independent commission] made the right decision."
Liverpool claimed Evra should also face charges after he admitted insulting Suarez during the altercation at Anfield in October.
Ferguson, speaking about Suarez's for the first time, added: "Our support of Patrice was obvious right from the word go and that's still the same.
"This wasn't about Manchester United and Liverpool. It was nothing to do with that. This was an individual situation where one person was racially abused."
The Scot also referred to the way United reacted when Evra received a four-match suspension in 2008.
That punishment was meted out after the Frenchman became embroiled in a post-match altercation with a Chelsea groundsman after United won a Premier League match at Stamford Bridge.
"Patrice got that suspension for the incident down at Chelsea when no one was there, just a groundsman and our fitness coach," said Ferguson.
"He got a four-match ban and we had to wait two weeks for the evidence to come through. We were quite astounded at that. A four-match ban?
"We thought it was well over the top for a trivial incident. But it happened and there's nothing you can do about it, you know."
Liverpool are waiting for the commission to deliver its full written findings before deciding whether to appeal.
That is not expected until after Christmas but, once it does arrive the club will have 14 days to consider their response, otherwise the suspension will begin at the end of that fortnight.