Aberdeen manager Craig Brown blames players for defeat
Last updated on .From the section Football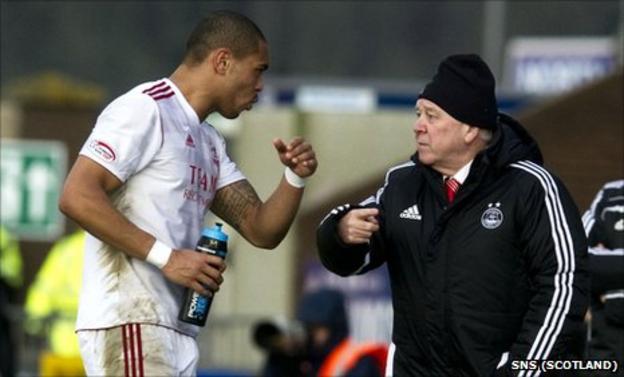 Aberdeen manager Craig Brown said his players only had themselves to blame after losing 2-1 to Inverness.
Despite scoring a consolation in blustery conditions, Brown's side could not fashion an equaliser.
"To concede as softly as we did from a corner was unforgivable," Brown said.
"The elements were the same for both sides. They got two goals out of nothing and we should fault ourselves for that."
Roman Golobart headed home the opener for Inverness from a corner on 64 minutes, Gregory Tade doubled their lead five minutes later.
Rory Fallon reduced the deficit but the Dons could not find a second goal.
The first 45 minutes were an uninspiring affair and Brown felt that the match could have easily ended in a goalless draw.
"We didn't look to be in any difficulty," said Brown. "I thought the worse we were going to get was a 0-0 draw.
"To be fair, we weren't creating chances either, but we were comfortable and we had the better of the game until the first goal was scored.
"Our marking wasn't efficient at the corner and I'm told at the second goal there was a handling offence before the ball was shot into the net, but I didn't see it.
"Our players are saying it - which is clutching at straws where you're looking for excuses like that."
Brown's side have now failed to record three consecutive league wins this season and the Aberdeen manager admitted that the Dons fans deserve better from his squad.
"It's getting a bit wearing - the fans must be saying they're fed up listening to me apologising, it's time we started winning games," said Brown.
"That's the way I feel too. I'm giving an abject apology to our fans for the defeat. They deserve better, there's no doubt about that.
"The players have been told - they know it and I know it. All we can do is keep battling, fighting and persevering to get a run of result to do the support we have real justice."