Kilmarnock manager Kenny Shiels questions injury time call
Last updated on .From the section Football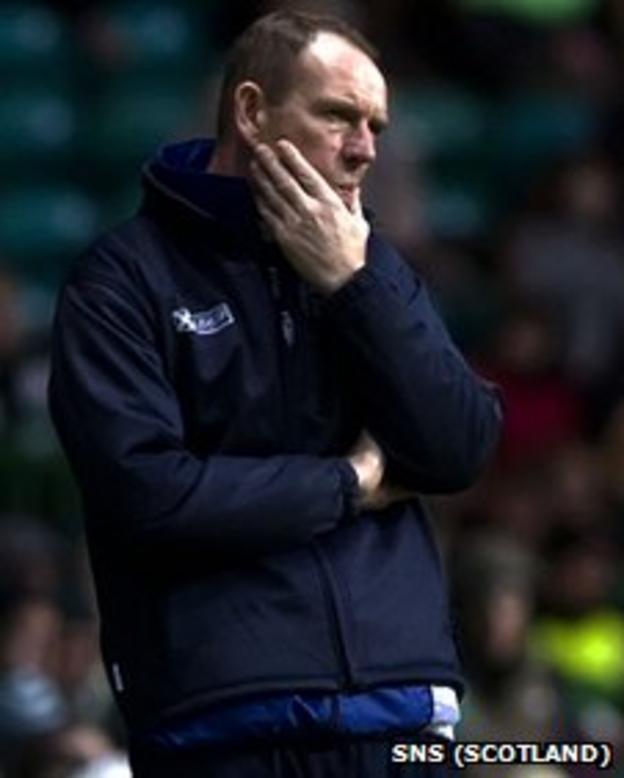 Manager Kenny Shiels was angry at the amount of first-half injury time played in Kilmarnock's defeat at Celtic Park, during which time the hosts scored.
Georgios Samaras headed Celtic ahead in the second minute of stoppage time before the break.
But Shiels feels only one minute of added time should have been played.
"Arithmetic's a simple thing, 45 and one are 46 but the referee made an error in his time," Shiels told BBC Radio Scotland.
"I don't know what happened but there was one minute went up and Celtic scored in the 47th minute. I was really good at arithmetic at school and that doesn't add up to me.
"I'm not saying he did it because he wanted Celtic to score. It was just maybe a mistake that he made. We're human, we make mistakes. I just don't understand how he made the mistake.
"Maybe his watch, there was something wrong with it? It cost us at a crucial time.
"Even though it wasn't in game time, I don't know if there'll be an enquiry into it or not but certainly I would like to see what will be done about that.
"The first half had ended and they score during the half-time break. It's a bit strange."
Samaras fired a second after the break and Danny Racchi claimed a late consolation for Killie.
"I don't think that we deserved to lose the game," added Shiels.
"My centre-half slipped for the second goal, which made it 2-0, which is a bit of a killer.
"We can't come here and lose the game and be pleased about it. We've come and lost 2-1 to Celtic, what good's that? That's no good to me and I don't want players that see that as a contentment.
"I want my players to be disappointed at losing the game and we're very disappointed."