Fifa agrees to release of 'kickback' document
Last updated on .From the section Football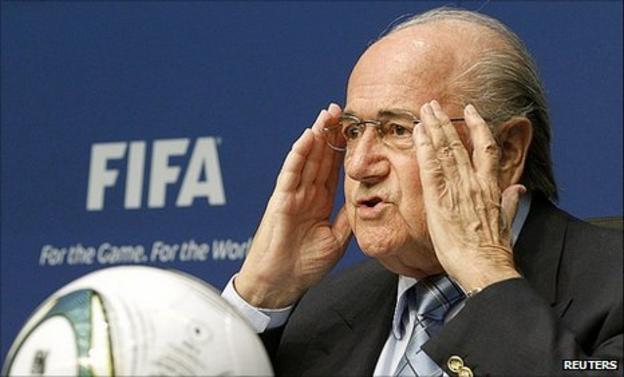 Fifa has accepted a court decision clearing the way for the release of a document that is said to name football officials who took financial kickbacks.
The document allegedly reveals that Fifa officials pocketed millions of dollars from World Cup broadcast deals.
World football's governing body had repeatedly blocked attempts to have the document published.
Last year, lawyers acting for Fifa and the officials paid £3.9m to settle the case and keep their identities secret.
The 10-year-old scandal stems from alleged payments made by the International Sport and Leisure (ISL) marketing agency before its 2001 collapse with debts of $300m.
A BBC Panorama investigation last year claimed that the two officials in question were former Fifa president Joao Havelange and his son-in-law Ricardo Teixeira, a Fifa executive committee member and chairman of the World Cup organising committee for Brazil 2014.
The programme said Teixeira received £6m in bribes via a front company called Sanud which was registered in the tax haven of Liechtenstein. Both men have denied the allegations.
In May Fifa appealed for a second time against a Swiss prosecutors' decision to make the document available to the public.
But with Fifa under huge pressure to reform following months of damaging corruption allegations levelled at senior executives, president Sepp Blatter promised in October to publish the document after his executive committee met on 16-17 December.
However, Fifa postponed its publication, saying "legal measures" taken by a party involved in the scandal prevented it from releasing the court papers. Fifa did not identify which third party had stalled the process.
But a Fifa statement released on Tuesday said it had "taken note" of the court decision and will not appeal "as it corresponds to the position" taken by the Zurich-based organisation and its president.
Blatter claims he was cleared of any wrongdoing in all aspects of the ISL case. Still, the court document could give details of his awareness - in his role as Fifa president - of payments being made at a time when commercial bribery was not a crime in Switzerland.
The latest court decision is open to appeal for 30 days.