QPR manager Neil Warnock criticises referee Lee Probert
Last updated on .From the section Football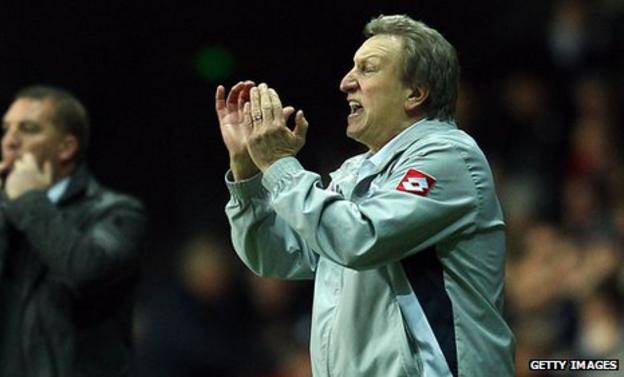 QPR manager Neil Warnock was left fuming by the performance of referee Lee Probert after what he described as a "cruel" decision.
Warnock was angry that Danny Graham was not punished for handball leading up to Swansea's opener in the 1-1 draw
"The referee saw it was handball but said it was not intentional," said Warnock. "It was a kick in the teeth.
"It was a crucial decision. It felt such an injustice at half-time but it spurred us on."
He added: "It's the big decisions that you want referees to get right.
"I thought there were a number of mistakes tonight but it's the match-winning ones you want them to get right. You've got to know the game.
"If he [Graham] doesn't handle it and control it to shoot then it goes over Luke Young's head and we clear it."
Jamie Mackie pulled a goal back to earn Rangers a point, but that was not enough to satisfy Warnock.
"I'm disappointed that we haven't got three points," he added. "I feel we should have got three points; we played very well today."
Asked what he thought of Probert's display, Warnock replied: "He was consistent right from the first minute to the last."
Swansea boss Brendan Rodgers was equally scathing of Probert, who waved away a penalty appeal when Graham appeared to be fouled by Armand Traore.
"It was a clear penalty," Rodgers said. "I have had the chance to see it from a few angles and it was a definite penalty.
"Normally with the referee so close that's a penalty. I thought it summed up Lee's performance, which was interesting to say the least."
Warnock added: "I said to Brendan, 'I hope it's the most obvious penalty that you've ever had not given', and we just had a laugh, both of us."