Swansea City should 'develop' survival strategy
Last updated on .From the section Football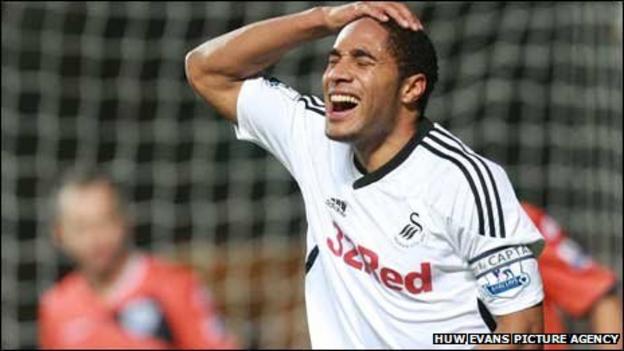 Mark Bowen has warned Swansea City they might have to change their strategy to survive in the Premier League.
The former Fulham, Manchester City and Blackburn Rovers assistant is concerned that Brendan Rodgers' side have won just once in their last eight games.
Swansea are without an away win this term and their home form will be tested as Tottenham Hotspur, Arsenal and Chelsea are their next three visitors.
"I know it's going to be difficult for them," said ex-Wales defender Bowen.
"Maybe at times they've got to just develop their game a little bit more in terms of getting it forward a bit quicker."
Only Premier League leaders Manchester City have made more successful passes than Rodgers' men but only Stoke City have had less shots on goal in the first half of the season.
"Brendan's got to figure a way of 'how do we create more chances and more goals to give us a better chance of winning games?" added Bowen, who was raised as a boyhood Swansea fan in nearby Neath.
"Can he do that with the squad he's got or does he [have] to dip into the transfer market in the best way Swansea can?"
Swansea, who have only lost once - against champions Manchester United - at the Liberty Stadium this season, are 14th in the Premier League and five points clear of the relegation zone following their home draw with Queens Park Rangers on Wednesday.
But Rodgers' team have the worst away record in the Premier League, having secured only three points from nine games on the road.
Swansea face in-form Spurs on New Year's Eve before travelling to Aston Villa two days later with home games against sixth-placed Arsenal and fourth-placed Chelsea to follow in January.
"Up until now they've done very well," said Bowen, who has been Mark Hughes' managerial assistant.
"They've earned a lot of plaudits for their football and the way they go about their game. They're very pleasing on the eye.
"I'm sure everybody with the club - the players, Brendan and the fans - will be delighted with what they've achieved so far.
"It seems now is the tipping point. I know they've got tremendously hard fixtures coming up in January.
"Maybe we'll have a better idea of where the season's going for them at the end of January when they've come past this difficult period."