Colchester United boss John Ward vows to fight back
Last updated on .From the section Football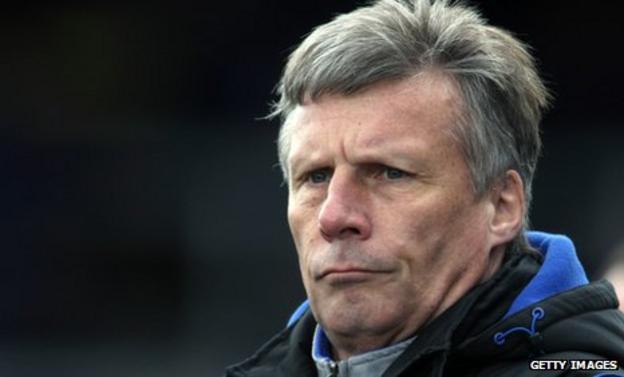 Colchester United boss John Ward has backed himself to elicit a response from his side following their 6-1 thrashing by Stevenage.
The defeat, their biggest ever at home, is the second time the U's have lost heavily at home this season, after November's 5-1 reverse to MK Dons.
"I think I can believe in myself after working in the game for 40 years," Ward told BBC Essex.
"I don't think anybody does that without having some ability somewhere."
Ward and his side came under fire from home supporters after both results, but the former Cheltenham manager is making no excuses for the under par performances.
"We're in it together," he said. "I take full responsibility as the manager, as I expect the players to do for their performances.
"We'll come back on Saturday against Exeter and take on the next challenge.
"There'll be some Colchester supporters who want to see the team do well again. Players who will want to do well again and I'll tell them now they've got a Colchester manager that wants to do well again."
The U's, who had won their last two League One games before Monday's collapse, conceded four goals in the final 30 minutes against Boro.
"It's not so much the third goal," added Ward. "It's afterwards when I've seen one or two heads drop and shoulders droop.
"That's the biggest disappointment for me because that shouldn't happen. You get disappointed but you have to deal with that.
"It's happened to us twice now in front of our own support and that's not acceptable for us."