Northampton Town win appeal against John Johnson red
Last updated on .From the section Football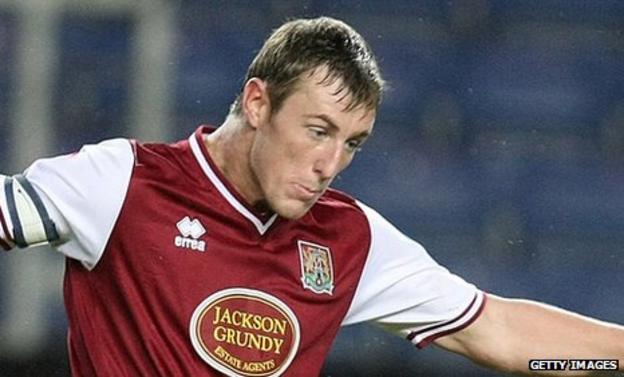 Northampton Town have won their appeal against the red card shown to John Johnson against Burton.
Referee Kevin Wright believed the 23-year-old had caught Albion's John McGrath with an elbow but DVD evidence refuted that.
"I'm delighted. I didn't think it was a red card at the time," said manager Aidy Boothroyd.
"As a manager, and having played the game as well, you tend to know when somebody has done somebody."
Boothroyd added: "I went home straight after the game on Monday and watched the incident again countless times and I could see why the referee gave a red card because it happened so quick.
"Not many people would have been brave enough to go for that challenge with their head and I think that says an awful lot about Jonno's character.
"I think he is an exceptionally brave player. He is very tough and what he did is go with his head but the momentum of his arm came up and it's actually his hand that touches the other player when they clashed heads."
Johnson would have missed three matches, starting with the clash with Swindon Town on New Year's Eve.
"Every time I've appealed, I've done it properly," Boothroyd said. "Sometimes you have to put your faith in the authorities and everyone at the club is delighted that Jonno is now available for selection against Swindon on Saturday."