Portadown blame Glenavon fans for Mourneview trouble
Last updated on .From the section Football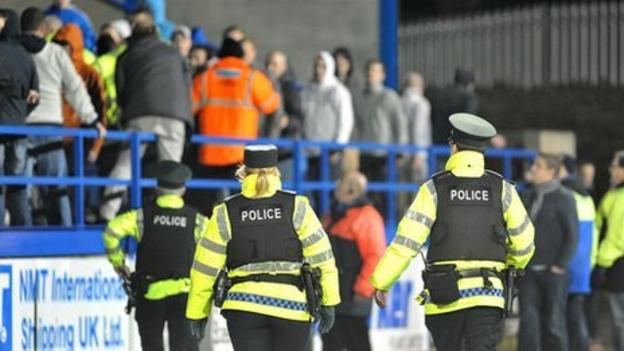 Portadown have blamed Glenavon fans for the violence which marred Monday's Carling Premiership clash.
A statement from Portadown "unreservedly condemned" the incidents.
"At the final whistle as Portadown supporters were leaving the stand, they came under attack from a barrage of missiles," added the statement.
"The missiles were thrown by fans in the Glenavon end and these persons then proceeded to enter the Portadown stand."
The statement added that "Portadown were forced to protect themselves and a number of fans were injured in the attack".
"We would like to praise the Portadown FC stewards for their prompt and professional interventions, which led to a de-escalation of the fighting.
"One Portadown steward received severe facial injuries including a suspected broken cheekbone. The chief steward was hit by a bottle thrown by a Glenavon supporter."
The Portadown statement also said that their supporters "came under attack outside the ground".
"Supporters were attacked as they made their way to their cars and supporters' buses were also attacked by stone throwers.
"Portadown FC will be raising a number of concerns over events which transpired.
"These issues will be brought to the attention of any investigation to be conducted by the appropriate authorities."
On Tuesday, a statement from Glenavon said that the club hoped that those involved in the disturbances would be "identified and prosecuted through the criminal courts".
"Over the next few days and weeks we will be liaising closely with the PSNI and the District Council in an effort to prevent such scenes at any future games," added the statement.
"In addition, Glenavon Football Club will initiate misconduct proceedings under its code of conduct against individuals identified as being involved in the disturbance."
The statement continued that Glenavon would be assisting the PSNI investigation and would hand over any CCTV footage from the match.
It also urged supporters who "witnessed people involved in the disturbances and are in a position to identify them, to pass their information to Lurgan PSNI".