Morocco and Auxerre's Kamel Chafni banned in France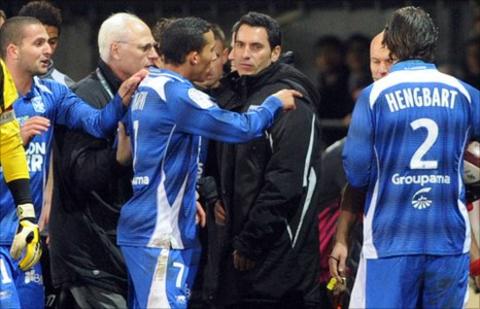 Kamel Chafni has been provisionally suspended by the French league (LFP) pending the results of an inquiry into whether the Moroccan pushed a referee.
The Auxerre midfielder was sent off by Tony Chapron on 17 December, shortly after accusing assistant referee Johann Perruaux of racial abuse.
Chafni and Perruaux have since settled their differences although the LFP is still investigating the matter.
Chafni's ban is a precautionary measure that does not indicate any guilt.
The case created headlines in France after the 29-year-old claimed Perruaux racially abused him during Auxerre's 1-0 defeat against Brest earlier this month.
The linesman strenuously denied the claims and Auxerre reported on 21 December that the pair had settled their dispute following a telephone call.
"Mr Perruaux has confirmed that, after Mr Chafni had contested (a decision), he told him: 'Get lost.' That he regretted this reaction. That he did not racially abuse Mr Chafni in any way," a joint statement by Chafni and Perruaux read on Auxerre's website.
"Mr Chafni has accepted to consider this statement as true."
The LFP opened an inquiry into the matter on 18 December and is still awaiting recordings of the radio communications between Chapron and Perruaux during the match.
There is no indication as yet of when the LFP will conclude its investigation.
Chafni, a Moroccan international, has played in all but one of Auxerre's league matches this season, with the French league currently on a winter break until 14 January.