Hibs boss Pat Fenlon knows Hearts players' wages pain
Last updated on .From the section Football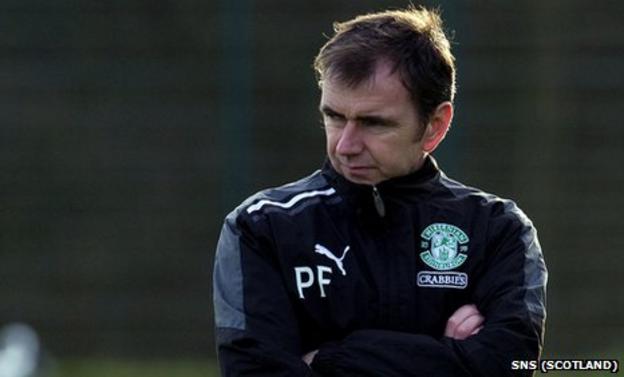 Hibernian manager Pat Fenlon has revealed he knows what the Hearts players are going through as they wait for outstanding wages to be paid.
During his last season as boss of Shelbourne, in 2006, the Irishman suffered worse.
Fenlon explained: "The last year I won the league with Shels, me and the players went 14, 15 weeks without any wages, so I know what it's like."
Hibs play host to Hearts on Monday when they meet in the Edinburgh derby.
The Easter Road encounter will be played against a backdrop of uncertainty at the cash-strapped Gorgie club.
The Hearts players are still waiting for their December wages after their October and November salaries were late in arriving.
"I have experienced a lot of that," added Fenlon. "It was a regular occurrence in Ireland."
Despite Shelbourne struggling to pay him and the players in 2006 they still managed to win the Eircom League.
However, the club were demoted from the top flight for the start of the following season by the league's licensing committee after an investigation into its finances.
"It didn't get resolved," Fenlon said.
"We won the league, the players were all released and over a period of time they were paid back, but the club got relegated by the league for not paying wages.
"It's not for me to say what happens here - I don't know the rules - but that's what happened there.
"It was very difficult. Footballers are like everyone else - they have mortgages and bills to pay and shopping to get.
"I don't think the players were earning enough, particularly when I was playing, to put a bit aside.
"So it's trying to focus their mind on playing and trying to help them off the pitch as well.
"But my players dealt with it really well and I think the Hearts boys are dealing with it quite well too."
Fenlon, who is still looking for his first win as Hibs boss, smiled as he remembered the financial challenges of management during those tough times at Shelbourne.
He said: "When you are doing some of your coaching badges they give you a little idea of how you deal with financial difficulties.
"But I was probably able to tell them in the pro-licence courses rather than them telling me because I dealt with them long enough.
"So I have faced harder things than what happens here at the moment."