Fabio Capello wants Uefa to act to stop clubs 'poaching' young players
Last updated on .From the section Football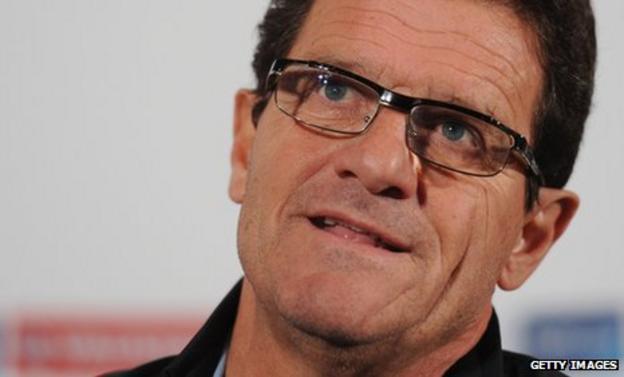 England coach Fabio Capello says Uefa must act now to stop top European clubs poaching young players.
He is concerned that the richest clubs are signing the youngsters for their own academies despite home clubs making all the initial investment.
"A rule needs to be put in place because clubs are scouting all over the world and stealing players from each other," he said.
"More players are being bought when they are very young by richer teams."
Speaking at the Dubai International Sports conference, he added: "I think Uefa should pass new rules to allow clubs to reap the reward from the seed that has been sowed instead of seeing their talents leave when the player receives a major offer.
"I have spoken to [Uefa president] Michel Platini, and I am sure that in the future clubs will be forbidden to steal players away when they are still very young."
In 2009, Manchester United denied claims they "stole" teenage midfielder Paul Pogba from French club Le Havre. They were accused of offering "very large" sums to the 16-year-old's parents to encourage him to end a contract he had until the end of this season.
United reached an agreement with the French second division side in June 2010.
Lazio were also unhappy with United's pursuit and signing of Italian striker Federico Macheda in 2007, who was 16 at the time.
Meanwhile, Barcelona described Arsenal's purchase of Jon Toral as "a little immoral". The 16-year-old midfielder moved for a fee of about £296,000 in February.
Arsenal manager Arsene Wenger said at the time: "We have done what is legal. Plenty of players leave us under exactly the same rule."