Man Utd's Chris Smalling has tonsillitis, says Sir Alex Ferguson
Last updated on .From the section Football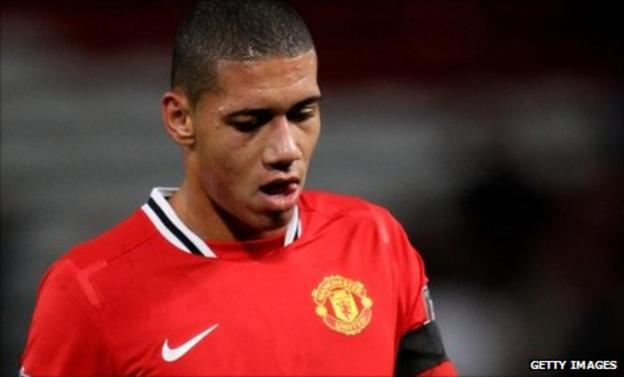 Sir Alex Ferguson says Chris Smalling is suffering from tonsillitis and will be fit to play next week.
The Manchester United manager dismissed fears the England defender faced a long lay-off with glandular fever at Friday's press conference.
"I have seen the reports," Ferguson said. "They are well wide of the mark. He has tonsillitis."
Smalling could be back to play at Newcastle on Wednesday or Manchester City the following Sunday.
Reports suggested that Smalling could be out for up to three months, which would have added to the club's injury problems.
Ferguson added: "He had glandular fever as a kid, but that's not the case now. He should be ready for the Newcastle game, if not the City game in the FA Cup."
Ferguson admitted that United's injuries "were a concern now" but hoped Phil Jones would be fit for Saturday's clash against Blackburn at Old Trafford and said Rio Ferdinand had an "outside chance" of being on the bench.
But he has no worries about pairing Michael Carrick and Patrice Evra at the heart of his defence where they played in the second half of the 5-0 win against Wigan.
"We can cope," said Ferguson, "especially in home games. Michael Carrick's form has been one of the key points in recent wins. He can pass the ball and has the height, pace and experience.
"It wasn't a problem for him against Wigan. He was flawless.
"Patrice also has the experience and the spring to head the ball. We will get on with it."
The United manager also said he was "shocked" at the criticism piled on Steve Kean, boss of United's next opponents Blackburn.
He said: "The pressure on managers in the game today is enormous and they're always singled out in the press.
"They humiliate managers, the press, just humiliate them. In the case of Steve Kean, when the supporters react that way you think 'there's something wrong with society'.
"That's where the strength of Steve Kean comes through. He's kept his dignity very well."
Ferguson also said he sees Tottenham as one of the main challengers for this season's Premier League title.
"They are playing the best football in the country," he added. "They could win it on this form, definitely."
And the United manager, who celebrates his 70th birthday on Saturday, said the club will look at exercising their option on Dimitar Berbatov's contract in March.
The Bulgarian has six months left on his current deal but there is a clause that means United can offer an extra year.