FC Sion 36-point penalty ends Man Utd hopes of European reprieve
Last updated on .From the section Football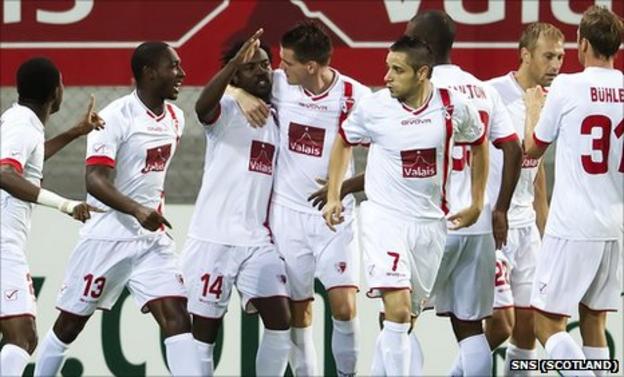 FC Sion have been deducted 36 points by the Swiss Football Association (SFV) for fielding ineligible players.
The club had been adjudged to have fielded six ineligible players signed during a transfer embargo.
Subsequently, Fifa had threatened to suspend the Swiss national side and the country's club sides from all competitions if Sion were not punished.
This could have meant FC Basel being ejected from the Champions League and Manchester United reinstated.
The Swiss champions knocked Sir Alex Ferguson's side out of European football's elite competition and into the Europa League, but could have fallen foul of Fifa's sanction had the SFV not moved to punish Sion.
Sion had been placed under a Fifa transfer embargo after football's world governing body ruled the club had been guilty of inducing Egypt goalkeeper Essam El-Hadary to break his contract with Cairo-based club Al Ahly in 2008.
However, the Swiss club proceeded to sign six players in the summer. Those six players took their case to a civil court in the canton of Valais, which ruled they could play, and Sion subsequently fielded them in the Swiss league.
Sion then fielded five of the six players during the Europa League play-off tie against Celtic and were kicked out of the Uefa competition as a result, but had not been punished by their national FA.
The Swiss side have now been docked three points for each of the 12 league and cup matches in which one or more of the six ineligible players appeared.
The penalty leaves them 10th and last in the Swiss Super League, on minus five points.
"This decision is an intolerable attack on fairness in sport but comes as no surprise to the club which did not expect any courage on the part of the ASF in the face of Fifa," Sion said in a statement.
The SFV confirmed that Sion have the right to appeal to Court of Arbitration for Sport against the points deduction, while Fifa said an emergency committee would study the SFV documents relating to the sanction early next month.