Tony Vance departure from Guernsey was 'inevitable'
Last updated on .From the section Football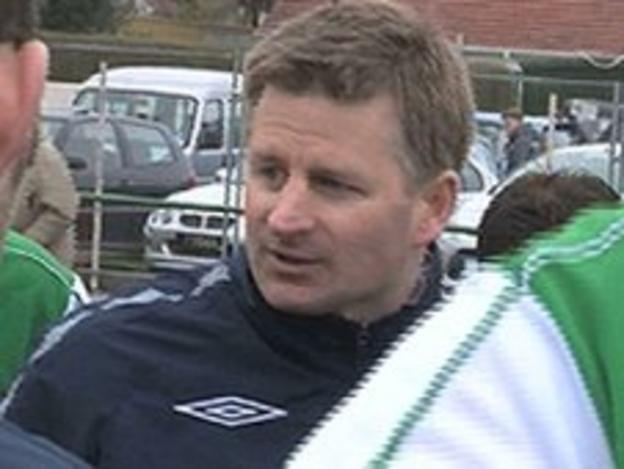 It was inevitable Tony Vance would step down as manager of Guernsey, the boss of rivals Jersey has said.
He continues as coach of club side Guernsey FC, who play in Combined Counties Division One.
"With what's going on over there I think it was inevitable and a matter of time before this did happen," Jersey boss Craig Culkin said.
"I'm a little bit gutted for Tony. I'm sure the Guernsey Football Association will be disappointed to lose him."
Vance spent two-and-a-half years in charge but will now focus on winning promotion with table-topping Guernsey FC.
Earlier in 2011 he criticised the introduction of a rule which said any senior player who turns down the opportunity to play for the island would not be offered the chance for the rest of the season.
It means players could have to chose between representing the island in the Muratti against Alderney and Jersey, or representing the new Guernsey FC in the English league.
Vance believes the ruling is "detrimental" to Guernsey football.
Culkin told BBC Radio Jersey: "I'm disappointed for Tony that he won't be taking the Muratti team and on a personal level I feel for him.
"I think we've just got to concentrate on what we're doing.
"We've got a really exciting 2012 to look forward to and we'll be looking forward to the Muratti. I'm disappointed Tony won't be involved."
James Blower, Guernsey Football Association director of football, said: "It's been a difficult time for everyone because this is an unprecedented period in Guernsey football history.
"The rule is that players cannot decline the opportunity to play for their country - Wayne Rooney can't decline to play for England and play for Manchester United instead.
"I think it's incredibly sad that we've got to this position with Tony.
"I'm not worried about the future of the Muratti - it's one of the oldest competitions in the world. I don't think the Muratti will ever go away whatever happens to local football.
"It's one of those trophies that has something special around it like the FA Cup does in England."