'Inspiraled' Oldham hope to derail Liverpool's Groovy Train
Last updated on .From the section Football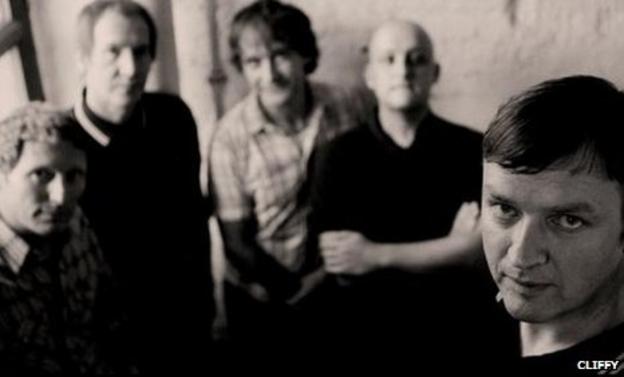 On 11 April 1990, Graham Lambert, founder member and guitarist of Inspiral Carpets, was desperately trying to watch his beloved Oldham Athletic reach the FA Cup final for the first time in their history.
Only there was a problem. And it wasn't just opponents Manchester United.
His bandmate Clint Boon had bought a tiny portable television and was fiddling with the aerial for better reception as the pair sat in a taxi on the way back to Oldham, having been gigging in London at the height of their popularity.
"Clint was faffing around with this newfangled gadget for the entire match", Lambert recalled. "The picture was really fuzzy until Clint suddenly got a clear signal.
"'Perfect', Clint said proudly.
"Yes, it was perfect, apart from all I could see was United's Mark Robins wheeling away in celebration," remembers Lambert. "To this day I can still recall his face really well."
The Latics lost that semi-final replay 2-1 after extra time. Their cup dreams had been dashed by a player born just a few miles from Boundary Park.
On Friday, Oldham's class of 2012 will be up against more top-flight opposition as they face Liverpool at Anfield in the third round.
Liverpool are a club steeped in musical tradition too - all the way back to songs of The Beatles and Gerry and the Pacemakers sung on the Kop in the 1960s.
Peter Hooton, founding member and vocalist of The Farm, attended his first FA Cup final in 1974.
As an 11-year-old, he watched Bill Shankly's team overrun Newcastle 3-0, but as the band's success grew in the early 1990s he found himself unable to go to the Wembley showpiece of 1992.
"Liverpool were playing Sunderland but we were in Lisbon," he recalls. "We'd arranged a bar to watch the match in, but before kick-off we went to Benfica's Stadium of Light as we had been told we could meet the legend that is Eusebio.
"We stayed at the training ground for a few hours, but word then came Eusebio would be an hour late for our meeting.
"We looked at each other and agreed we had to stand him up for the sake of the game. You can't miss a cup final. We never did get to meet him!"
Hooton would take winning the FA Cup ahead of a top four finish in the Premier League this season. Those aspirations are a million miles away for Lambert's Oldham.
Apart from another semi-final replay defeat by Manchester United in 1994, the cup competitions have offered slim pickings for the club in recent times - but Lambert is forever hopeful.
"We're up and down in the league, but playing more freely in the cups and it seems to be working," he says of Paul Dickov's side.
And fans do not have to go back too far for an FA Cup win on Merseyside.
In January 2008, an Oldham side that included Mark Crossley and Lee Hughes beat Everton 1-0 at Goodison Park in the third round. They went on to lose at home to Huddersfield in the next round.
Back to 1990, and just 18 days after defeat to United, Lambert was driving down the M1 to watch Oldham play Nottingham Forest in the League Cup final at Wembley.
Joe Royle's exciting team were on the verge of their first major trophy, and the Inspirals were all set to see their debut album 'Life' reach the top of the UK album charts.
"We played a gig in Sheffield on the Saturday night, then jumped in a minibus on Sunday and travelled down to Wembley," Lambert said.
"Sadly, the win double didn't quite come off. We lost 1-0 to a Nigel Jemson goal and The Carpenters' 'Greatest Hits' re-issue pipped us to the coveted number one spot."
'Fast forward 22 years and the band have reunited with original vocalist Stephen Holt. A new single, 'You're So Good For Me' is released on 23 January, with a nine-date tour of the UK lined up for March, as well as a gig in Athens.
Playing against Liverpool always came as a special treat for Lambert - he remembers a 3-1 fifth-round defeat in February 1977.
"Kevin Keegan, Jimmy Case and Steve Heighway all played that day - every time they had the ball it seemed as if they were going to score."
Oldham's last meeting with Liverpool came on 15 January 1994, a Premier League game the Reds won 3-0.
"The band were down in London doing The Word on the Friday night," he said. "But I insisted we all got back on the Saturday for no other reason than to watch the game.
"Julian Dicks scored a screaming free-kick right in front of the Chaddy End. You don't like to see your team get battered, but when it's by a legendary team with great players you don't mind so much."
However he gets to watch Oldham's progress in the FA Cup this season, Lambert will at least insist Boon updates his televisual viewing technology.